Babar at the Arts Decoratifs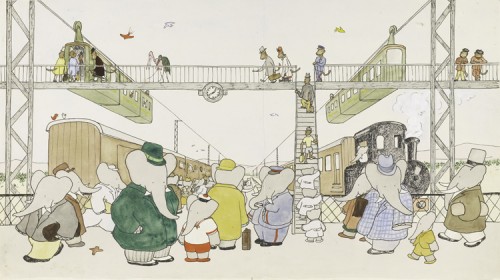 Get in touch with the big kid in you or bring the kids out to the new Babar Exhibition in Paris at the Toy Gallery of the Arts Decoratifs Museum. It celebrates the 80th year anniversary (1931 by Jean de Brunhoffof) the creation of the famous french book series with all the books by giving a behind the scene look at sketches and the process of the creation of the stories. In an effort to create a massive collection, many items were borrowed from prestigious museums around France and the world as well as submissions from private collections of toys, figurines and board games.
The history of King Babar and his green suit awaits you from December 8th, 2011 to September 2nd 2012.
Toy Gallery – Art Decoratif Musuem (Mus?e des Arts d?coratifs – galerie des jouets )
To visit the museum:
Open Tuesday to Sunday, 11 a.m. to 6 p.m.
Les Arts D?coratifs
107, rue de Rivoli
75001 Paris
France
CLOSED ON MONDAYS.
more info here on the museums' website
METRO/SUBWAY: Palais Royal – Mus?e du Louvre trains M1 or M7