Want to travel from Paris to a cool place in the south of France, that is beautiful, easily accessible and seriously cheaper than Aix en Provence? Let's go to TOULON! Found in the Provence-Alpes-Côte d'Azur region.
A few days ago I got back to Paris from Toulon. While in the south of France we got to discover more of the region by way of Salon de Provence, Aix en Provence (which I love and have travelled to before) but also Marseille (my first time!).
Here are a few photos from the trip:
Getting to Aix (or Toulon) from Paris is super easy and not expensive by train. Around 60 euros each way if you book in advance. And 4 hours with the SNCF train.
In Toulon we stayed at the Holiday Inn Centre – they have a cool pool, English staff, breakfast included and very good wifi.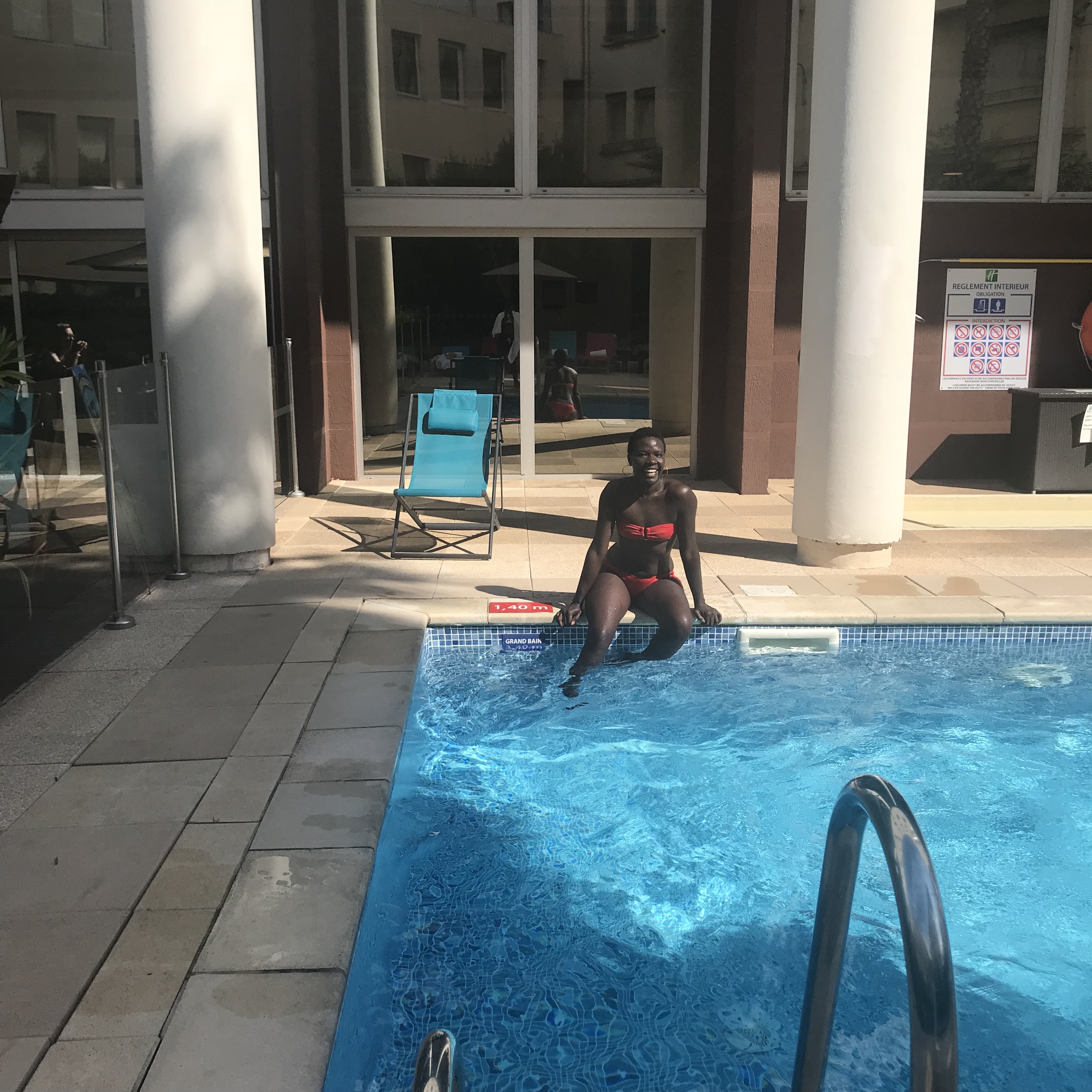 What I loved most about Toulon was that it felt so relaxed (compared to Paris), you could easily walk around and discover so much history about France (it's one of the biggest marine naval towns and have an impressive port with beautiful boats and a marine museum), around every corner of a small street you'll find a square with a fountain and lots of tiny bistros to sit for a coffee or dinner.
Place to visit in Toulon:
Cafe Brun Noir – Address: 20 Rue de l'Équerre, 83000 Toulon
Maison Sarroche – Address: 101 Boulevard Bazeilles, 83000 Toulon
Army Museum – Address: Place Monsenergue, Quai de Norfolk, 83000 Toulon
Ban Thai – Address: 10 Boulevard de Tessé, 83000 Toulon
Sculpture de Bateau (boat Sculpture) – Address: Place Vatel, 83000 Toulon
Twiggy Cafe – Address: 11 bis rue pierre semard, 83000 Toulon
La Tete a Toto Resturant – Address: 4 Rue Larmodieu, 83000 Toulon
Resturant Le Pascalou – Address: 3 Place À l'Huile, 83000 Toulon
Les Enfant Gates Restuarant – Address: 9 Rue Corneille, 83000 Toulon
Le Bistro de Cesar – Address:  16 Rue Moliere, 83000 Toulon
Freedom square – Address: Place de la Liberté, 83000 Toulon
Plage du Mourillon / Mourillon Beach (bus 3)
L'Anse des Pins – Address: 4 Plage du Mourillon, 83000 Toulon
Satyns (club) – Address: Prom. Henri Fabre, 83000 Toulon
Shopping Mall Mayol  (Zara, FNAC, Go Sport…) – Address: Rue du Mûrier, 83000 Toulon
There are very few (ABOUT 2) Ubers in Toulon. Bet on calling a taxi rather if you need to get ride, because even our uber driver confirmed that Ubers are "mal vue" ie seen as bad competitors to the taxis.
Aix is the perfect place to go market shopping or take a day trip to see the lavender fields
Salon de Provence is in between the two towns and is more "Sauvage" as we say in French, meaning wild in vegetation. We stayed at a fancy camping ground with a pool and a reggae festival for a few days. I'm am not a big "camper" but I guess this would fall more in the category of "glamping". The camping grounds have been in the family for centuries – a river runs through it and they have this amazing garden with so many tropical plants and trees I was blown away.
Camping Nostradamous with pool
Adresse : Route d'Eyguières, 13300 Salon-de-Provence
Don MALEKO and Friends Festival  – July 2018
Map it:
RENT A CAR: I'd say the best way to see the region and hop around from town to town is to rent a car. We moved easily between Salon de Provence, Marseille and Toulon within a few hours.