As I sit and write this from my apartment in Montmartre its raining and i just put on a fresh pot of water to make some chicoree ( Im cutting back on coffee and i swear someone needs to make this old drink alternative sexy! ) Alas I digress…
If you have been reading the blog for some time and find value in the content I create here, in the newsletter, youtube and instagram, plus make a monthly donation. They start as low as 3 euros a month – that'sthats less thantan a cup of coffee in many places.
Here are some news and things to do this February in Paris
SIDEWALK CAFES: have become a trend if you've been following my daily videos on instagram I show you snippets of real life daily at the moment. Specifically Friday evening before our 6PM curfew I went to the post office here in Montmartre and showed you a few streets and bars that actually had lots of people out sidewalk drinking. I suppose the restaurant owners are taking advantage of the click and collect idea, and many customers are using this as an opportunity to socialize. 
PARIS BOOKCLUB:
Today it's Sunday and I'm delighted to be hosting David Lebovitz for a chat on life in Paris on my Instagram – brought to you by our book club on Patreon. Our book this month is The SweetSwweet Life. You can join us here monthly via zoom. 
GO SEE: TRUC À FAIRE 
By Jr is a multi-building art exhibition that also has a  supermarket, sounds like a weird mix indeed, but hey it's something to do as most museums and galleries are closed by law. Find out more here
NEWS: James Baldwin will see his name on a new multicultural space in the 19th arrondissement in Paris!
You can also follow Entree to Black Paris for tours relating to black history and life in Paris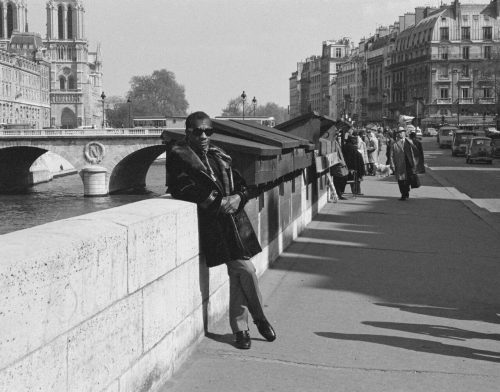 And read this article on Black Americans that have made home in Paris 
Laduree for sale: the french pastry giant is the first in a series of companies to hit the dust because of the recent financial crisis brought on by the pandemic in the travel industry.
Want to practice your french read more of the article here
https://www.bfmtv.com/economie/laduree-pourrait-changer-de-proprietaire_AN-202102030365.html
MUSEUMS:
Centre Pompidou virtual –  has a few interesting virtual visits like one with Joan Miro
The Louvre and Uniqlo have ceated an artistic collaboration you can find more here
WALKS:
Even though the CHÂTEAU DE FONTAINEBLEAU is closed but you can still visit its magnificent gardens for a walk.