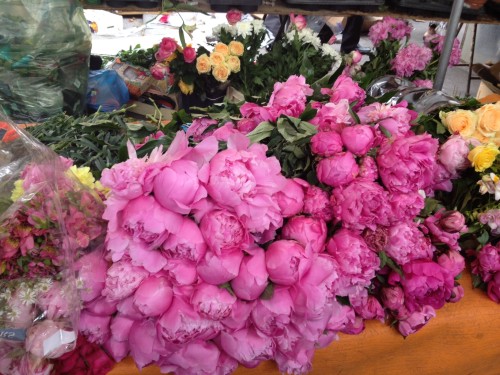 On Wednesdays and Saturdays many Parisians congregate under the Barbes metro railways to shop for fruits and vegetables. This is an old neighborhood at the foot of Montmartre that borders 3 very diverse areas of Paris: the 10th Arrondissment and 2 socially different areas within the 18th Arrondissement. A lovely mismatch of immigrants in caftans, native French folks in their chinos and new balance and tourists sticking out with their hiking backpacks.
This is the best place to get the cheapest selection of produce.
You'd think you were in an African souk or South American marketplace but don't be overwhelmed by the shouting vendors inciting you and the massive amounts of people pushing through with their shopping trolleys to come and taste the seasonal fruit or catch the 1 Euro promotion for the day.
If you're thinking of going with small children, perhaps it's best to leave the stroller at home, due to the mass of people. Also be aware of pickpockets the Gare du Nord area going up to Barbes is safer than it was years ago, but anywhere theirs a crowd its makes it easier for thieves to target unsuspecting tourists.
The biggest pro is that you'll find some of the best priced produce here in comparison to the other markets like Le Marche d'Aligre and the selection is pretty much the same. They have everything from flowers, fruits, vegetables, Butchers and Fishmongers.
Should you need some small home products like cheese graters, plates and utensils you cal also find them here at a bottom price.
If you're looking for an authentic Parisian food market experience and wanting to so some reasonable food shopping in the Montmartre area this is the best place to shop. It's animated and best to go early if you want to avoid the crowd or later if you want to get the "best-of-the-rest" promos. Just 10 Euros is enough to have you leaving with enough fruits and vegetables for a couple to eat for a week.
Address: Metro Barbes (Line 4)
Hours: Wednesdays and Saturdays 8am to 1pm
Map it:

View Larger Map