Eat My Truck. Weird name but great hot dogs.
Hey, you can't actually eat this food truck, but everything inside is good to eat. The guys behind this gourmet hot dog fast food joint on wheels brings a great concept to Paris; filling a niche in the food truck craze that's presently taking the gastronomical capital by storm (example Cantine California, Le camion qui fume…)
I had a chance to met up with one of them, on the HEC Paris college campus, in Jouy en Josas last week.
The duo, Loic and Thomas came up with the idea after many years of working together in the food industry and also subsequently after having a communications agency together. They decided to ditch the office for the truck. Loic is French and Thomas is American. Together they bring you their mixed cultures; love of French sausages and a childhood of eating hotdogs, to the Parisian masses.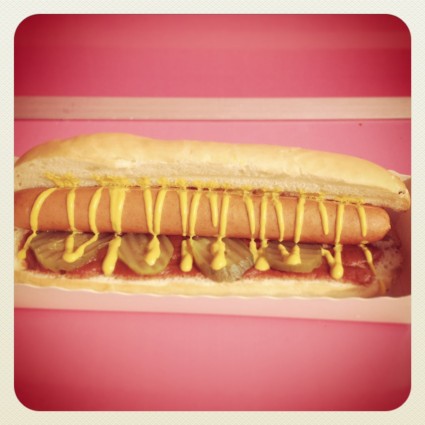 There are 7 types of hot dogs including a vegetarian option (made with seasonal vegetables), coupled with a side of homemade fries or salad.
Loic offers me some of the fries, adding "I peeled them all by hand!". The ingredients and products are carefully chosen; he explains, even if its 'fast food'. For example the ketchup and bun are also homemade.
I tried the Classic beef hot dog with pickles (seen here in the photo). It was warm and dissolved nicely on my tongue; tasty with American styled mustard and the homemade ketchup (not as sweet as industrial ketchup!). I was surprised how filling one hot dog can be: I was full only after a half of mine, but still pigged out.
Eat my Truck can be found on the HEC Campus twice per week: Tuesdays and Thursdays.
Other Days they're in Paris. Most frequently at Point Ephemere (a concert venue with a shared multi purpose space + resto along the canal).
Hot dogs with sides average 8 euros
Check out Eat my Truck website + Facebook page for exact locations during the week.
Quite unfortunately, many students struggle with despite the fact this is considered to be the easiest genre of writing because all you have to do is to write your own experiences in an intelligible manner about a topic or social situation. Students also need to be aware of different kinds of essay formats. Normally, MLA is preferred but you should confirm this with your instructor or professor.