updated: july 2019
Yes, thats the word! Canicule – you've seen it every where today. It just mean that the weather is so hot today you'll feel like you're in the desert! But we can make the best of it with some open air swimming pools right?
#Canicule2019 is in full swing ladies and gents – I literally felt the heat from the pavement burning my feet just now – Oh I wish I want to jump in an ocean right now!
You may not be liking the heat much either. So what to do?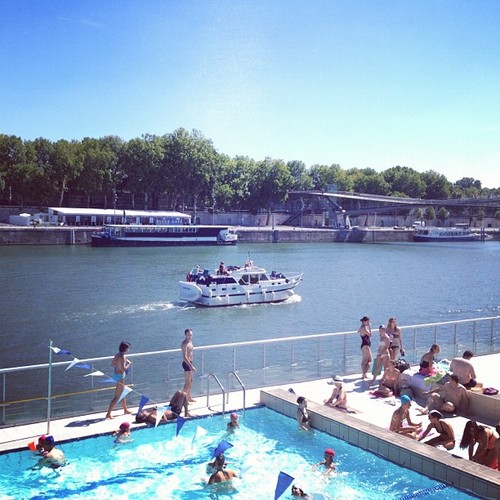 Even though you're in no way close to an island sea or ocean in some exotic location – but you're in Paris and a lot of people could kill for that! – you can still escape the heat (for a bit!)
So here how to have your cake and eat it too (with lots of water) – LET'S GO TO THE OUTDOOR PUBLIC POOLS.
They are rather hygienic and I've tested a few. Here are six pools that will make you feel a bit cooler – really – all while cooling off.
Most pools are 3 to 5 Euros to enter.
8 Outdoor Paris Pools to Cool off
1. Pool 12th Arrondissement – Roger le Gall
34 Boulevard Carnot
Metro Porte de Vincennes
Tel : 01 44 73 81 12
June to September
2. Pool 13th Arrondissement – La Butte aux Cailles
5 Place Paul Verlaine
Metro Place d'Italie
Tel: 01 45 89 60 05
3. Pool 15th Arrondissement – Keller
14 Rue de l'Ingenieur Keller
Metro Charles Michels
Tel : 01 45 71 81 00
4. Pool 16th Arrondissement – Auteuil
Bois de Boulogne, route des Lacs ? Passy
Metro Ranelagh
T?l : 01 42 24 07 59
5. Pool 19th Arrondissement- Georges Hermant?
4, rue David d'Angers
Metro Danube
Tel : 01 42 02 45 10
6. Pool 20th Arrondissement – Georges Vallerey
148 Avenue Gambetta
Metro Porte des Lilas
Tel : 01 40 31 15 20
7. Pool 13th Arrondissement- Josephine Baker
Port de la Gare, Quai Francois Mauriac, 75013 Paris
MetroBibliotheque Francois Mitterrand
Tel: 01 56 61 96 50
8. Pool 16th Arrondissement – Molitor Piscine
Metro Michel Ange Molitor
Free for hotel guests
And of course this movie just came across my mind if you're a francophile who loves french film you've probably seen this one already, La Piscine (Jacques Deray) / 1969, starring Romy Schneider, Alain Delon and Jane Bikin.