I've been thinking about writing this post for some?time now and it's been quite difficult to put everything I'm feeling about the terror attacks on France in words. Especially considering the whole worldwide state of affairs; "on est vraiment dans la merde partout!" but rather than focus on the?not-so-instagramabale-aspects let's acknowledge it and focus on doing all the good we can.
One thing I want to say is that I'm super happy about the good that social media has been doing for the image of France and the help people?are getting from it!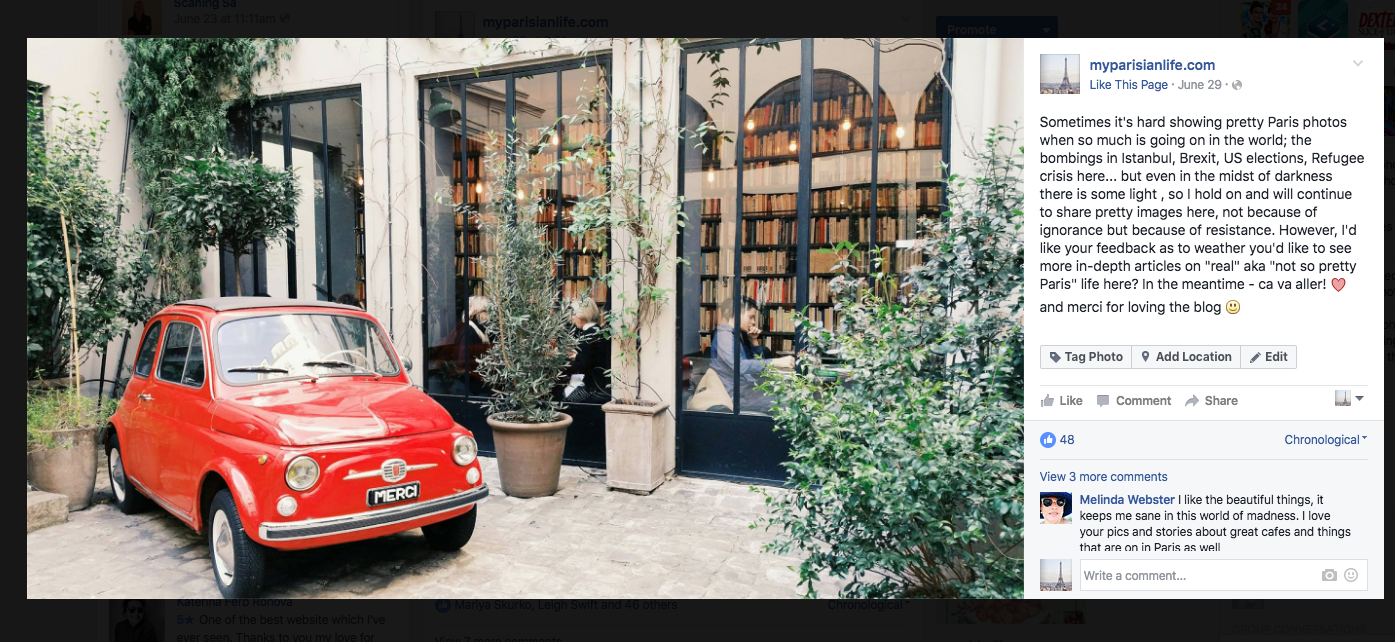 A few days before the attacks in Nice I had posted a photo of the concept store Merci Paris with this caption on Facebook:
Sometimes it's hard showing pretty Paris photos when so much is going on in the world; the bombings in Istanbul, Brexit, US elections, Refugee crisis here… but even in the midst of darkness there is some light , so I hold on and will continue to share pretty images here, not because of ignorance but because of resistance. However, I'd like your feedback as to whether you'd like to see more in-depth articles on "real" aka "not so pretty Paris" life here? In the meantime – ca va aller! <3 and merci for loving the blog 🙂
I received an overwhelming supportive 48 likes and 10 comments all basically saying:
a. Beauty is the best antidote for the ills of the world! ?- from John Adams
b. I like both. We all love the pretty Paris and the iconic images, but I also like to see everyday Paris from a Parisian perspective. After all, it's still Paris with its many aspects ??
Agreed also let's bring the world's beauty to the forefront to help balance any negative focus. – ?from Helen Blake
Thank you all for your support of the blog and we'll continue to show you more and more of local Paris and insider tips to live your best Parisian life or prepare for your trip here.
The attacks in Nice again reminded me that even though we are all susceptible to monstrous acts of hate, that we are all capable of gigantic acts of compassion as I especially saw in my private Facebook groups. Almost immediately my phone was constantly buzzing from the posts of people looking for their loved ones in Nice, but more so for the hundreds of people in the group that were opening their homes right away to people in Nice.
WANTED#bons?plans?- is the page to follow for all the deals of people selling to other people in Paris.?
A group that's principally to help you find a place to live or sell stuff became my biggest source of hope as I continuously "up"ed posts for lost children and people opening their homes for refuge. "Up"ing is a method to get the most comments on a post so it?will rise to the top of the Facebook page via the algorithm of like and comments – so the most people will see it.
I'm also happy to say that many of the people, not all, found their loved ones and many found refuge from the selfless love of people on Facebook.
Much love and peace to you all. ?