If you're looking for a nice little romantic restaurant in Montmartre – close to Sacre Coeur but not a tourist trap – where the food is both good and reasonably priced then you'll like Le Gabin.
One Tuesday night after work a friend and I shimmied into this little place that I've passed by many times ( but on that particular night I was in a "why not?" slash too-tired mood).
The space was small and intimate.
Because it was empty when we showed up at around 8pm, I was thinking that this was probably a sign of caution – but as I mentioned I was just off from work, and completely busted so I wasn't quite in the mood to take another step in any direction except closer to the bar.
I ordered a tea and a glass of Kir right away, at the same time. Tea to calm me down and the Peach Kir to pick me up a bit. Don't judge me.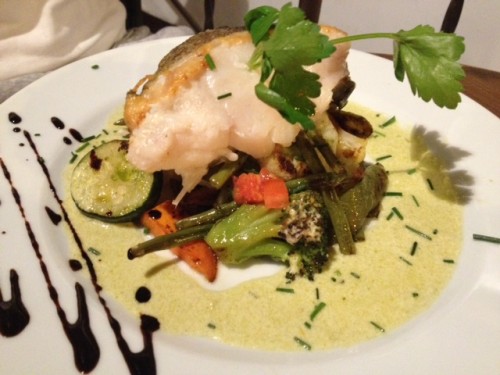 We ordered from "la Formule/ Fixed Price Menu" from the chalkboard: their proposed selection for the night included an appetizer, main course and wine or main course wine and a dessert for 20 Euros.
Later on, when our order came and other people started tricking in I knew we had made a great choice. The meal tasted as good as these photos looked. We enjoyed everything from the warmness of the welcome from the waiter to the perfect Moelleux au Chocolat I ended the night with.
See more photos and read more after the jump…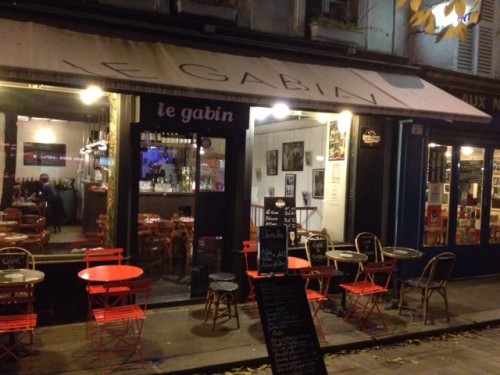 About the decor: The restaurant pays tribute to the late great French actor Jean Gabin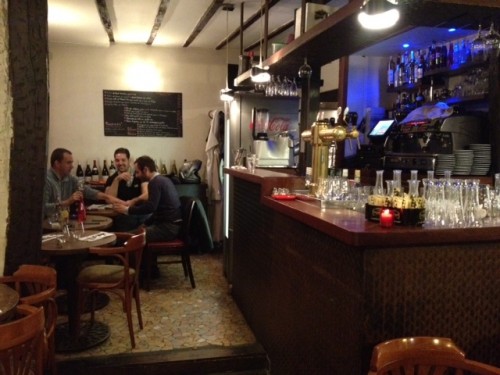 Address:
Le Gabin
25 Rue Lambert 75018 Paris, France
Quatier: Montmartre
+33 1 53 28 27 93
FIXED PRICE MENU : 20 Euros
Metro:
Lamarck – Caulaincourt (Line 12)
Ch?teau Rouge (Line 4)
Map it:

View Larger Map