Looking to spend an afternoon in Paris and not sure what to do? Try somewhere were you can be sure to be surprised with lots of choices. Visit Parc de la Villette, this huge park in the North of Paris has many concert halls, theaters, museums and green space just along the Canal l'Ourq! It is a multicultural space run by the city of Paris. If you already live in Paris you might have heard of or visited the park grounds in the past. If you are coming from aboard and especially if you're traveling with kids this is a great place to go. You can have a picnic or check out any of their kid friendly activities and venues for starters.
This past Sunday we went to the park to see a movie on the lawns of La Villette as part of the Open Air Cinema for summer 2013 ? You can see more info here on their website for the program. Movies are shown at least 3 nights per week as soon as it becomes dark. Usually around 10pm.
We wanted to see the 1956 classic Stanley Kubrick Film ?The Killing?.
Getting there a little after eight we had some time to kill and decided to walk around a bit. We were surprised to find a Molinga in the Park on the other side. Did I mention that the park is huge! Molinga means groups of couples dancing to live Tango music. It was hot (the weather) and they were all so sexy (the dancers). Men and women from all walks of life and nationalities enjoying a Sunday in the park with a Spanish pianist, French Accordion player, Venezuelan Violinist and German violinist. Talk about multicultural!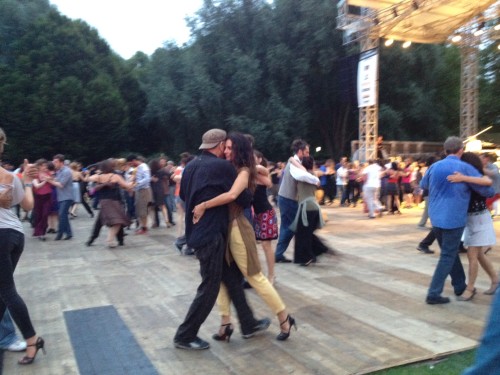 Here's a video I snapped up ( it's in Iphone quality) but you can still get a feel of the vibe I hope.
VIDEO.

Some of the things to do at La Villette.
SUMMER 2013 (aka the Scenes Ete-2013 includes, but not limited to:)
Tango:
Info in French: http://www.villette.com/fr/agenda/scenes-dete-2013-tango.htm
Cooking classes:
Info in French: http://www.villette.com/fr/agenda/atelier-cuisine-indienne.htm
Enjoy a free movie screening:
Plein Air Cinema for summer movie screenings
More info in French: http://www.villette.com/fr/agenda/Cinema-en-plein-air-2013.htm
CONCERT HALLS: Some of the most popular Parisian live music and concert venues are here.
Cabaret Sauvage – Concerts and Expos ( Think Keith Sweat, Mayer Hawthorne etc)
Trabendo – Concerts and clubbing ( Think Hot Chip, Fuck Buttons etc)
Zenith – Concerts ( Think Selena Gomez, Babyshambles etc )
MUSEUMS AND GALLERIES:
Science Museum – Cite de Science et de l'industrie – Expos and tons of activities for adults & kids
Cite de la Musique
MUSIC:
Annual Musical Themed Events
Jazz a la Villette
Even has workshops for kids
Worldwide Djs through Summer via Glazart
LaPlage de Glazart for summer DJ concerts
FOOD:
Enjoy a coffee or a snack at one of the many Caf? spots inside and around (such as Goutu or Caf? de La Villette).
Right out front beside the Metro stop "Porte de Pantin" there is a McDonalds and some Kebab places for the fast food lovers.
There aren't many restaurants around, but if you go a bit further down the canal you can find some.
FREE:
Join a free drum jam session on Sundays: this past Sunday there were 2 drumming sessions liberally in the park where people could join in for singing and dancing.
Join a free yoga session: Sign up not necessary in advance. This usually takes place in the afternoon in front of the big silver Geode.
KIDS:
The Science museum has many workshops for kids of all ages.
Go inside the Submarine: let the kids or the big kind inside you enjoy the nautical experience of being inside a real submarine (minus the water).
Take the kids on the vintage Carousels.
Bring your football and play on the lawn.
COUPLES:
Walk around or Picnic along the Canal L?Ourq:
Buy some cheese and wine from the Daily Monop (smaller version of the big French supermarket chain Monoprix) and enjoy a picnic in the park.
See Cite de la musique.
PRACTICAL INFO:
ADDRESS: 211, avenue Jean Jaur?s – 75019 Paris
Getting there by Metro: Port de Pantin
Velib Stations just out front beside the metro exit "Porte de Pantin"
Visit their website: Agenda 2013 – http://www.villette.com/fr/agenda/
Map it:
Keywords: family, cheap, best of paris, summer 2013, tango, video, Sunday afternoon, couple things, picnic, canal l'ourq, concerts, music, jazz, rock, DJ, trendy, hipster