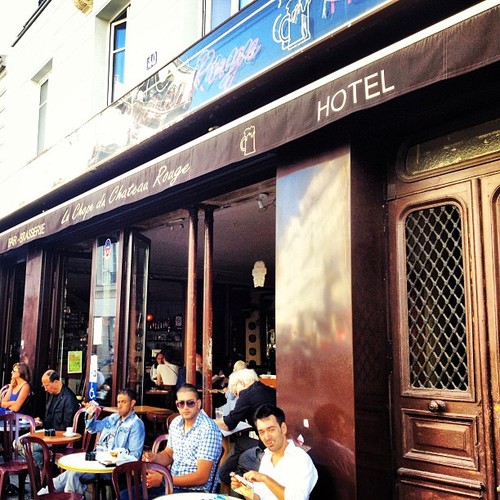 La Chope is one of the best old grungy Paris cafes that's run by a family of brothers. It?s clientele sees the best and worst of the Montmartre/ Sacre Coeur Neighborhood. The coffee is normal but reliable, the beer is cheap but good and the ambiance will always be filled with chatter, laughter and a local French radio station playing a mix of jazz, pop and experimental in the background. La Chope has soul.
La Chope du Chateau Rouge
40 rue de Clignancourt, Paris. 75018
+33 1 46 06 20 10
7am – 2am
Near Bar Rosie, Cafe Les Halles Marche St. Pierre, Sacr? C?ur.
Best cheap (old) bar.
On any given day you'll notice that people lounge here like they would in their living rooms; as if they were comfortably entertaining their friends in their apartments they talk easily and call to each other from their respective terrace tables. That?s because most of the people who frequent La Chope are locals who all know each other for years and never scorn on 'adopted' locals like myself.

Eight mismatched circular tables line the sidewalks with sprawling coffee drinkers sitting in brown plastic chairs facing Rue Muller and Rue Clingnancourt. Not very fancy is it? No. But people take the time from reading their novels to say Bonjour and to talk each other. Men discuss sports and world news at the Bar in the mornings with the bartender.
If you come here often enough and sit on the terrace you will see all of Montmartre walk by; the grandma on her way to the fruit market, the little boy running home with his baguette and the paint splattered artist.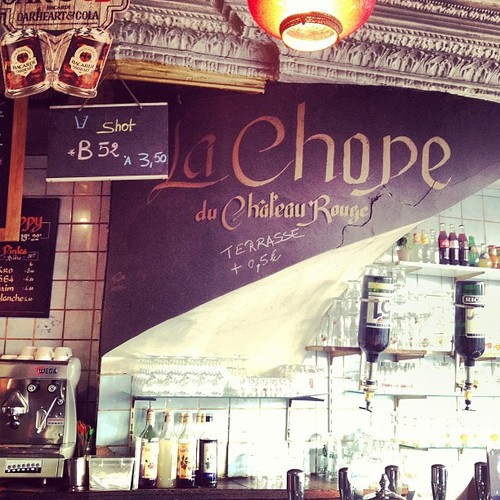 I've come to call this cafe my second home. Home sweet Home. I've had cafe cr?me and chocolocat chaud with croissants here on Saturday mornings with my son. And I've also ceaselessly used the wifi for hours on end as I perch on one of the old wooden chairs and scratched tables as my temporary office for months.
One of the best things about this little cafe and corner of Montmartre is that people are like family and treat the people they don?t know with respect. Most of the folks here are a mix of 50% young and 50% old; Freelancers, Writers, Artists, Teachers and Retired etc. I've met them all here and am happy to give the familar bisous on greeting them on our communal ground.
Pros:
You'll like La Chope du Chateau Rouge if you want to experience a "local" Paris Cafe. They have an old Hotel upstairs and at nights the crowd changes to 20 and 30 something?s hanging out after work for the cheap beer or playing card games on terrace during the summer months.
You can bring your own food! No kidding ? you can bring your own lunch and eat it with a beverage from the bar.
Free and stable WIFI
Separate toilettes for men and women. PS if you want to see a really old standing Parisian caf? toilette (turkish toilette) peek into the men?s restroom. Not many places have those anymore!
Happy Hour 6pm to 8pm – Beers 2.50 Euros
Cons:
They don?t serve food. But you can bring your own (yes you can!)
Address: 40 rue de Cligancourt, 18?me
Metro: Ch?teau Rouge (Line 4)
Map it:
KWS: bistro, ambiance, local, apero, gather with freinds, cheap paris, cheap beer, happy hour