Address:?200 Quai de Valmy, go inside Point ?ph?m?re, 75010 Paris-10th arrondissement
Metro: Jaures
Looks can be deceiving right? Like that time we went to eat at Point Ephemere close to the canal – you know when you get out the metro Stalingrad you can just hop over the little bridge follow the graffiti wall with the iconic Monsieur Chat – it?s a big grinning yellow cat? and pass the guys dressed casually in t-shirts, jeans and vans sneakers, even in the winter time.
Seeking warmth we passed some folks who were already inside the massive lounge space working on their computers – drinking coffee and all just about mining their own business when we came.
I should preface this by saying that having eaten at Point Ephemere before – about a year or more ago I thought I knew what I was in for.
Boy, was I wrong.
Looking at the menu on the small printed paper didn't do a better job at preparing me either for the culinary adventure. I mean how do I explain the assortment of small plates we dug into – that upon arrive to our table was nothing like what we ere used to?
Just look at the photos and come along with me down memory lane!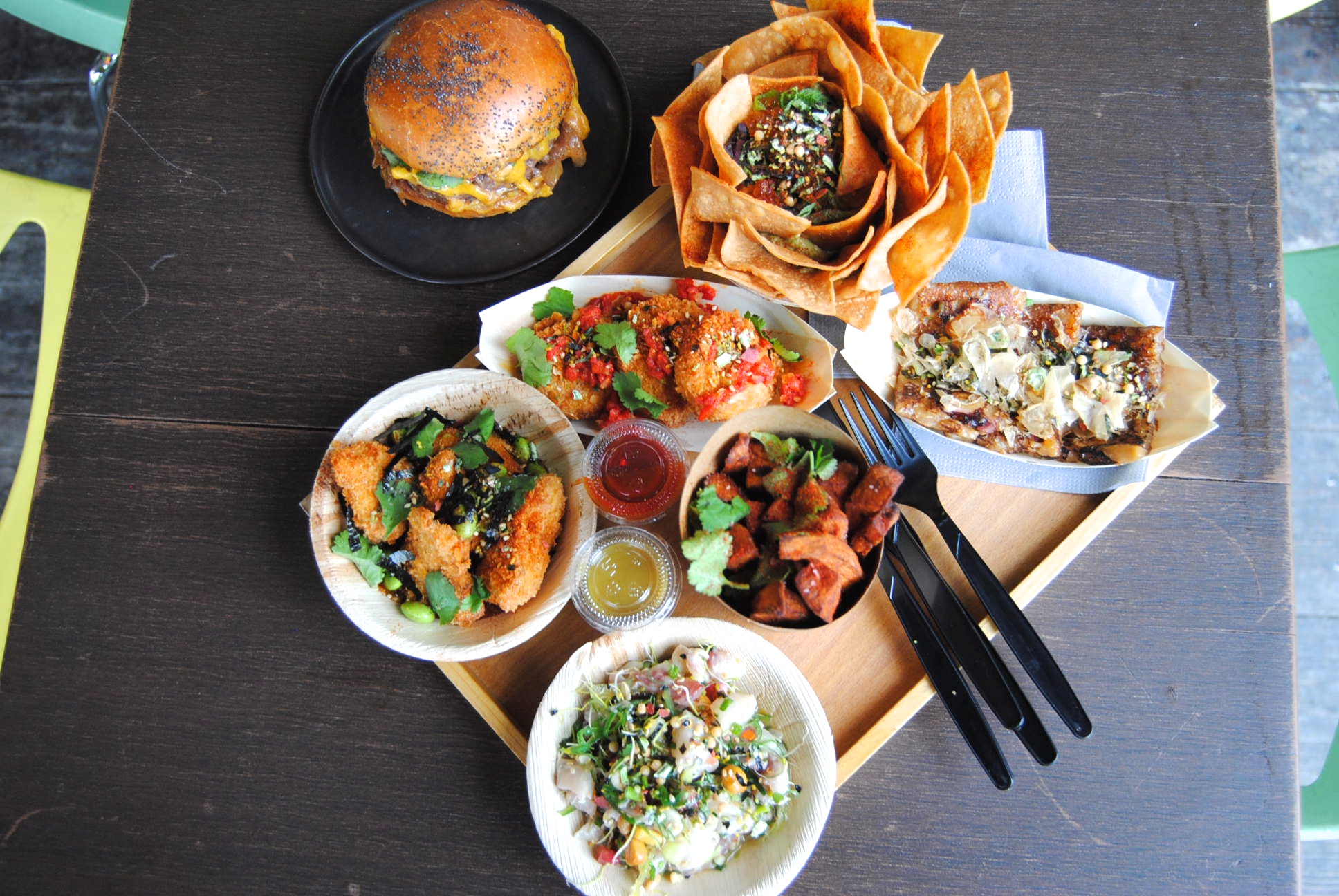 Animal Kitchen turns out to be one part music label and one part food venture – good music and good food!?
We decided to share the tapas and a burger – why not!? The tapas were 35 Euros for 6 – but really perfect for two people!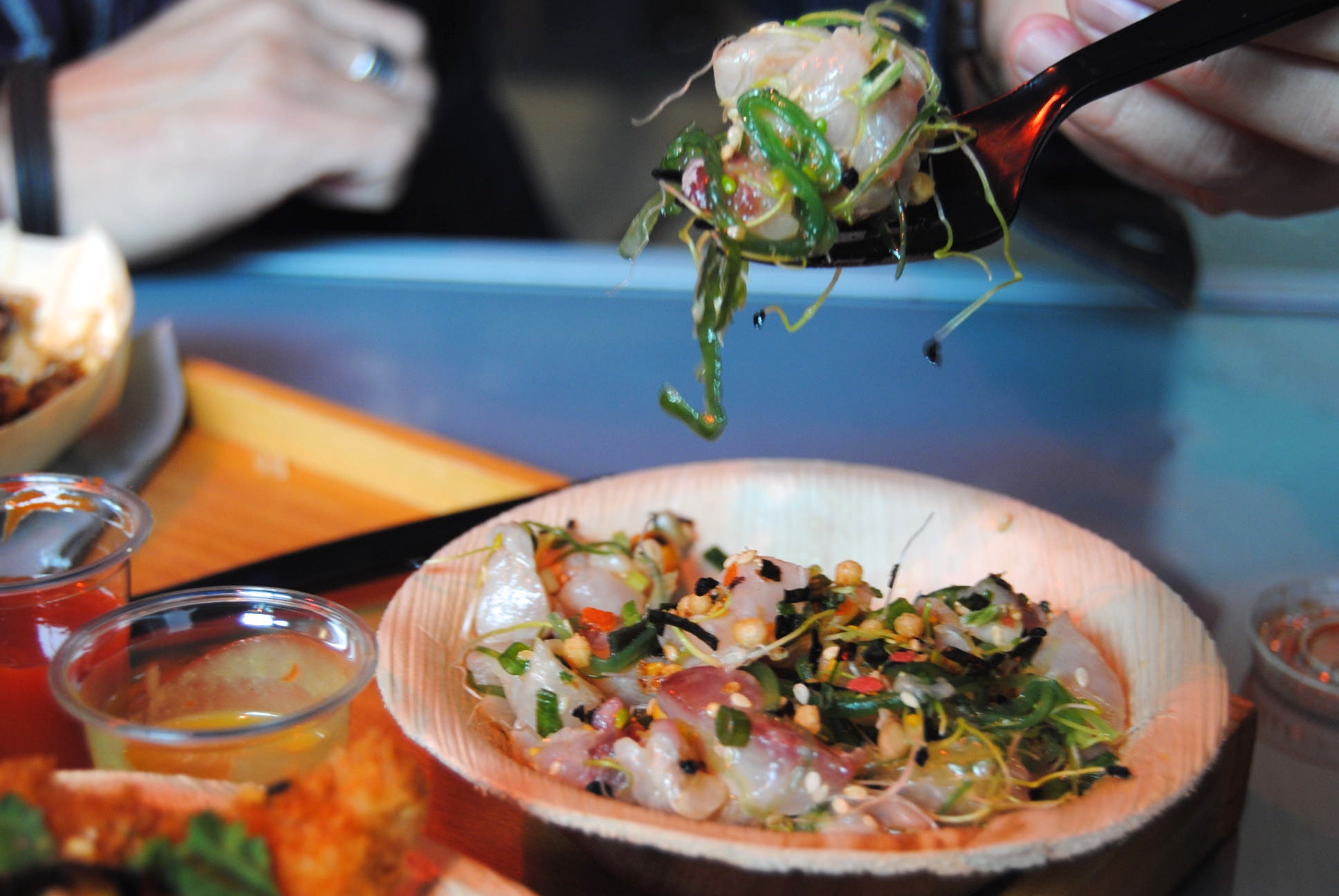 Here?s a blow by blow (dramatic) breakdown of my reactions (as I can no recall them?hahaha)
1.Guacamole – was a lot! and I was intrigued that soft timeline bubbly thing was – it was trout eggs! listen guys if you haven't had guacamole with rout eggs prepare to Upgrade your life!
2. Pancake – ahhmmm why is this thing still moving! – turns out the heat from these Japanese thrill pancakes makes the dry scallion move.
3. Ceviche? – my absolute favorite and happy this was the first thing we tasted – as the crunchy corn and pomegranate mix with the lemon sauce was a great way to clean the palette for everything else.
4. Croquette – oh wait is that fried goat cheese? OUI Madame! I?m here for all of it – I love love love goat cheese and this one crunchy and not at all strong was delicious.
5. Fries – sweet potato fries to be exact – they looked orange and so my guess was right. Standard, but all means, but loved that they topped it with coriander.
6. Nuggets? – oh yea that I know what those are!? – tegu we?re crunchy and moist and about to be my new obsession especially with that edamame kimchi (and coriander again!) sauce.
Now needless to say, I asked for the chef and let me also say that we left that place walking on cloud nine. What a surprise. Animal Kitchen is the coolest place. ?In this weird casual setting that actually offer high-end tapas at a reasonable price!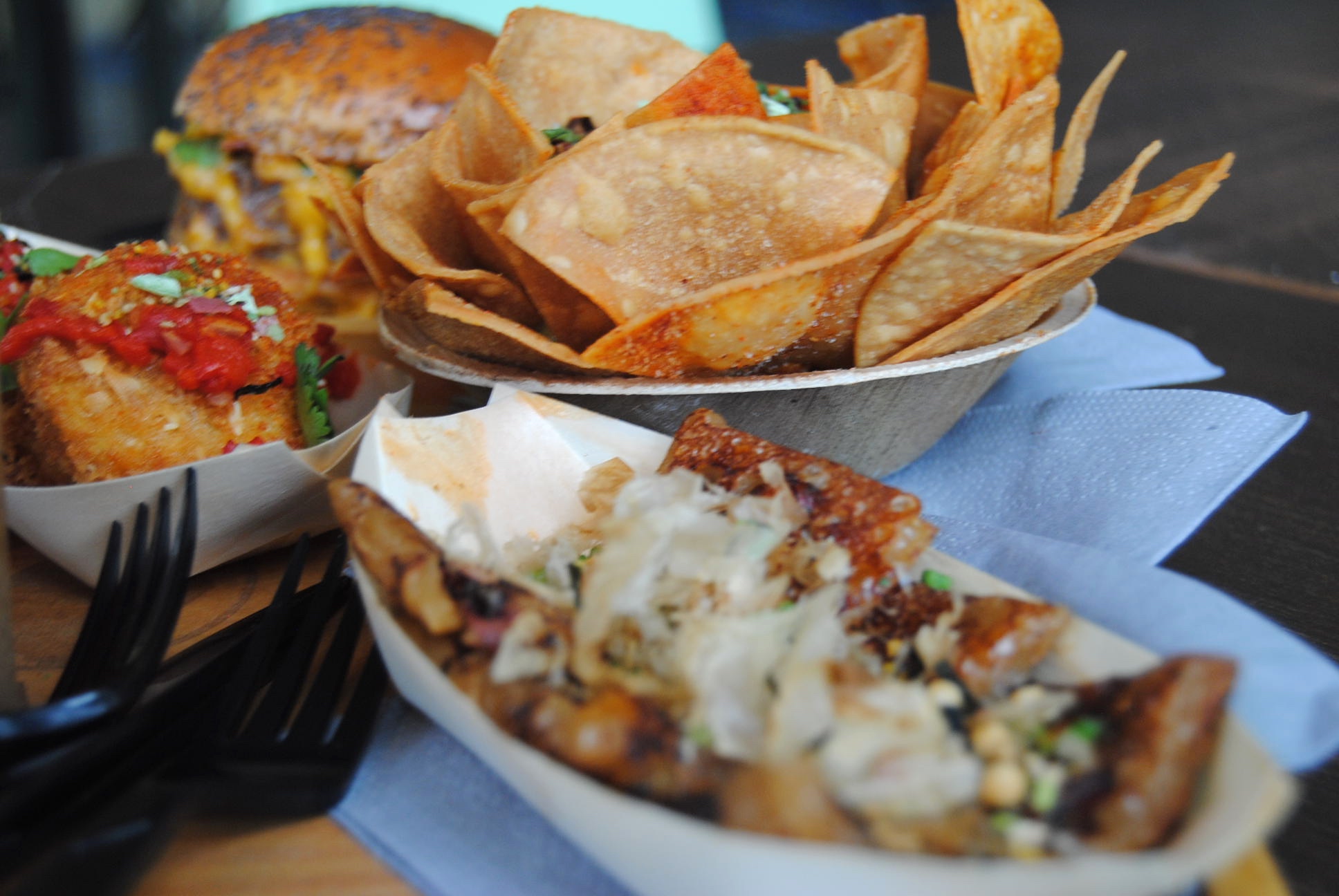 Oh await – or Lordy!? Forgot to tell you about the burger, before I was always a PNY burger fan. But we?re going to have a burger battle soon in Paris like in Berlin – because the way the meat was done medium with the sweet onions and moist black sesame seed topped bun.
Address:?200 Quai de Valmy, go inside Point ?ph?m?re, 75010 Paris-10th arrondisment
Metro: Jaures
Tip – just go whenever – don?t let the massive space weird you out – at nights the place is jam-packed for the concerts. ?Grab a menu and order lots of tapas!