Wondering what to do for Thanksgiving in Paris? While this American holiday is like any other Thursday in Paris, there are plenty of things to do and places to go to celebrate! We've put together the ultimate list of places to go for a traditional Thanksgiving dinner–and some things to do afterward. To plan a Parisian Thanksgiving you'll never forget, keep on reading!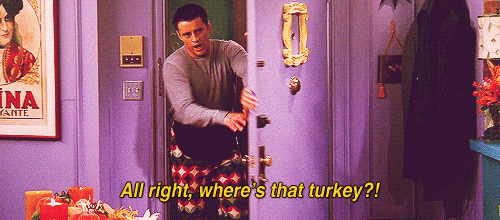 Thanksgiving Meals in Paris
Breakfast in America
Not only does Breakfast in America serve traditional (and delicious!) American breakfast food in a fun "diner-esque" atmosphere, they have an entire Thanksgiving menu served on the day–November 28. If you're planning for your Thanksgiving meal to be at Breakfast in America, hurry and make your reservations here!
Joe Allen Paris
Known for their traditional "New York style" food such as burgers, hot dogs, and grilled cheese, Joe Allen offers a Thanksgiving menu on Wednesday, November 27th. To make your reservations at Joe Allen, find the information here.
Treize au Jardin
For a more elevated atmosphere to your Thanksgiving dining, reserve a spot at Treize au Jardin, which offers a Thanksgiving menu on Thursday, November 28 and Friday, November 29. For the menu and information, click here.
Echo Deli
Known for their California-style brunch, Echo Deli is featuring a Thanksgiving dinner party! Head over to their Instagram for more information.
Sunday in Soho
Sunday in Soho, an American-style deli located on Rue Saint-Marc, is featuring a Thanksgiving feast for three nights: November 28th, 29th, and 30th. Hurry and reserve your tickets here.
Verjus
Verjus Paris, located on Rue de Richelieu will be serving a Thanksgiving Dinner from November 25th to November 29th. For more information, click here.
Activities
Christmas lights at the Champs-Elysées
Starting November 20th, the Champs-Elysées has a Christmas light display visible each night. If you're wanting to get in the Christmas spirit, consider taking this nighttime stroll post-Thanksgiving dinner!
Shop at Galeries-Lafayette
Why not do a little shopping after your Thanksgiving meal? Have a leisurely shopping day at the Galeries-Lafayette (and take in their beautiful Christmas displays while you're at it!)
Thanksgiving in Paris doesn't have to feel like just another day! You'll be able to enjoy the delicious comforts of Thanksgiving while exploring the City of Lights!
Join us over on Youtube for the latest insider knowledge on where to eat, drink, shop, and stay!