Just discovered Lobster Bar Paris and had the pleasure of chatting to owner and chef Mathieu on a recent visit. A new concept unseen in Paris, rare in a city that is such a diverse gastronomical place!
Mathieu tells us about his childhood trips to the US where he discovered his love of Lobsters for the first time and takes us on a journey of how Lobster Bar came to life from the dreams of a young boy from Switzerland, to a reality in central Paris.
Tell us a little bit about why you decided to open a Lobster bar in Paris?
While visiting the US on a family trip when I was a kid, I was fascinated with burgers. Back then you couldn't really get a good burger this side of the Atlantic and it was seen by us youngsters as very American, so it goes without saying I was looking forward to overdose on hamburgers. However, on a trip to Maine with my family we stopped to eat at this place that sold sandwiches and the likes  but no burgers! I reluctantly tried this pink fleshy sandwich thing for the first time and found out that it was interesting and I like it, a lot!
And as they say the rest is history
There are many interesting touches here and there – how did you go about implementing the decor?
I'm a control freak. There I said it.
A screenwriter by profession, having also written about food and restaurants, I always stayed close to my passion for food by testing the idea with special dinners I'd do annually for friends.
So when I decided to open my own restaurant I wanted to be in the design of the space as well as the menu. I wanted to have my hands on everything! The menu is quite simple as we only offer around 4 dishes.
The space is also simple but intricate.
Take for example this mirror that takes up the entire right wall: it depicts an ocean map linking France to the US. On one far end we see a part of Brittany – on the other end Cape Cod where the first lobster roll was created.
The facing wall has this crazy fresco design that was done by the founders of Cheap Monday. It took months to convince them to do it but once everything was in place they understood the concept of the restaurant, we became friends and it was a fun project for all of us.
The tables and chairs are actually really from boats and cruise liners of the 1950s such as the SS France.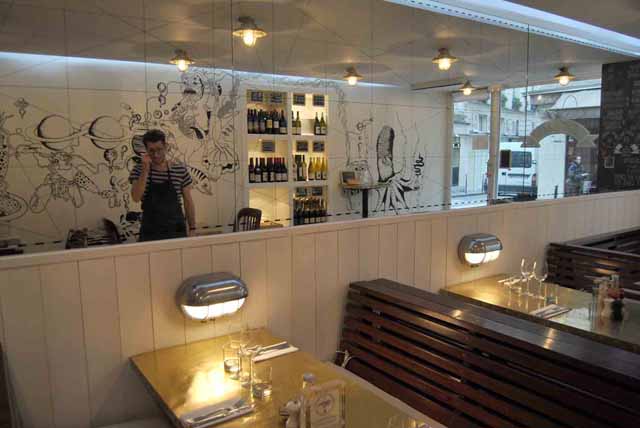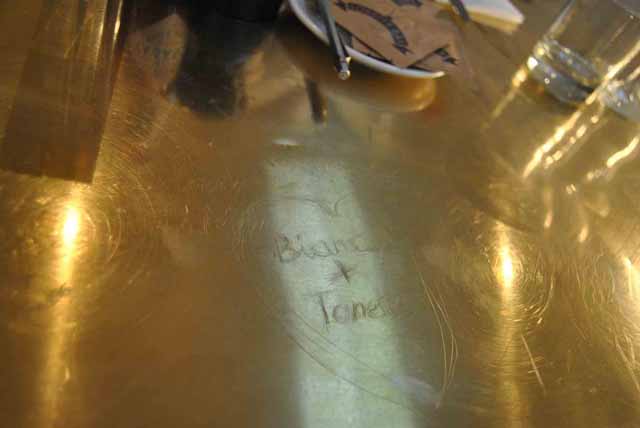 People come in and they personalize the table-tops with marks and sketches.
Give us a little Lobster 101, what do you cook and where do they come from?
Our Lobsters are from Brittany. Around 80% of the lobsters in the world come from North America, only about 5% comes from France. Even though it's more expensive to get Lobsters from Brittany it makes more sense for a few other reasons; the richer fruitier taste of these lobsters and there is less pollution involved than having them shipped from the US.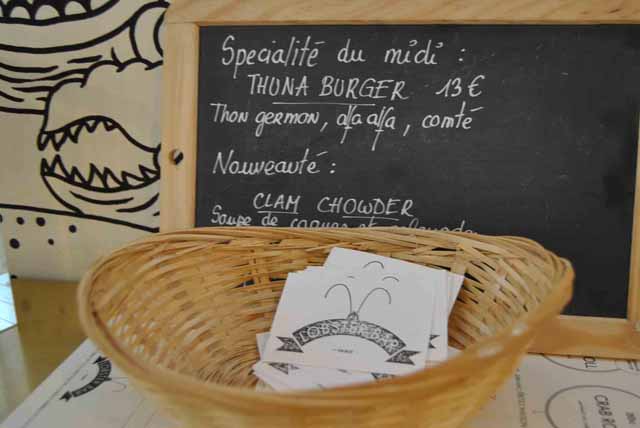 A funny thing happened to us recently. We had to close for a few days because we had no lobsters there was a storm in Brittany, so no lobsters. We put up a sign saying just that!
We also make our own fries from scratch with a rare variety of potatoes and extra-virgin olive oil, for a more unique and better flavor than what you get in the typical Parisian restaurant.
Whats's your favorite thing on the menu?
Everything on the menu is my baby. I love to prepare and eat them all. Some days I'd more like to have a soup than a sandwich or vise versa, depends on my mood. We also have a great selection of wines too!
With a boat-like decor you can find Lobster and other seafood dishes such as crab rolls, tuna sandwiches and clam chowder. A unique dinning experience in Paris, with a chic decor rich with history.
Lobster Bar
41 rue Coquilliere, 75001 Paris France
Open: Tuesday-Saturday & Sundays for Lunch
NB:Not open Mondays
12p.m-2.30 p.m 
BREAK in service in the afternoon
7:30 p.m-10.30 p.m
Serves: Lobster Roll, Crab Roll, Crab Cakes, Clam Chowder…
Credit Card accepted
Metro: Lourve -Rivoli ( line 1)
Map it: