I have a thing for young chefs.
Oh for crying out loud, get your mind out the gutter!
But seriously after so many years of living in Paris, stuffing myself silly with traditional french food, ?it's so cool to have a sweep of young, daring and intelligent chefs reinventing the food scene here.
Most of the star chefs here are certainly passionate but their pompous?attitudes far out shadows that, and they often come off so distastefully disconnected from the times, I can't stand it.
So imagine what a pleasure it was to meet this Tattooed rebel with a cause at the head of Salt. Chef Daniel Morgan's?ratio of?passion for good food and peaceful presence seemed quite well-balanced to the times!
Of course you can't be a great chef without confidence and creativity (some may even say a touch of crazy but I'll let you guys debate over that one!)
SALT is one of Paris most sought after restaurants right now in the 11th neighborhood, serving mostly seafood and fresh seasonal produce.
We sat down?during an afternoon preparation session to the sweet sound and smell of the open kitchen to our left.?He dishes on his life in Paris and overall love of food, forging and forests.
It's kind of creepy but I like to ask people about?their?childhood.? So what did you enjoy doing when you were 11 years old?
I was playing Man hunt in the Forest in army clothes painting myself in mud.
Well, I was born in?Sheffield?but my family raised me in a smaller little?town?called Chesterfield.? It's?the?oldest?market?town in?England, surrounded by?forest?nature, sheep, hills and river. We'd just disappear for a day in?the forest having fun!
How has this?experience?of appreciating nature formed your taste in what you like to eat and prepare?
I think it's?definitely?been a part of my structure. Everything you see on the plate has the essence of trying to be alive. We love to focus on healthy eating. Even though we're a fish restaurant we're 80 percent?vegetables.? And I do a lot of foraging.
Foraging – do yah? That's very hipster right now! Would you define?yourself?as a hipster?
I think there is nothing worse, but I've been?described?as a hipster a lot though!
Tell me a little bit about how you ended up in Paris?
I was working with my friend in Copenhagen*, and there I met some incredible people especially at Noma where I met the owner of Express Bar who got me here.
*Oh and we were doing some forging there as well with my friend who was working at Fiskebar.
Fiskebar is a big fish restaurant in the old meat-packing district in Copenhagen.
That's right I see that there will be a take over on the 29th of June with Fiskebar here at Salt. But will you also be in the kitchen ?
No.? I got a table of 10 with my friends reserved over there! We get to sit and enjoy some good food and wine.
Alright, so have you done this kind of exchange in Copenhagen before?
No, but I'm doing one in Gothenburg in July.
Sweden is one of my paradises, they have everything, so accessible, it's a metropolitan city, there's the ocean and mountains right there.
For people who don't know the restaurant.?How would you define the philosophy of Salt?
What we've actually stumbled upon is that we're a daily changing restaurant. We work with small sustainable?boats and fishing. I work with very closely with this company that pays the fishers double who fish for better quality. Also, as you can see from the size of the kitchen, we can't buy a lot because we don't have a lot of storage – everything is fresh every day – true creativity.
It's almost hard to keep up with, but I think its nice to cook like that, real cooking.
And your personal philosophy?
I have a gypsy blood so I ?like to travel and gather experiences.? For me knowledge is all I live for.? That's why I've lived in over 8 countries.
New age traveler – new age Columbus that's me.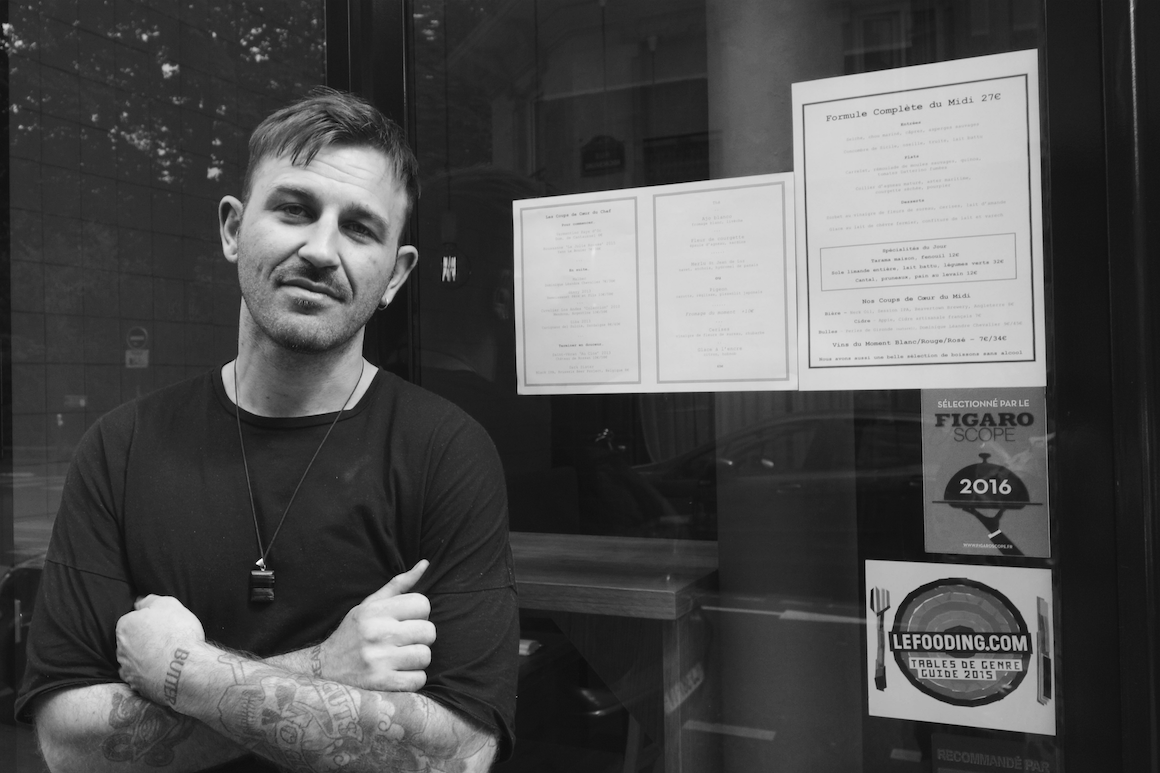 MPL -?If you were a pair of Shoes?
– Doc Martins – I wear them all the time, and they're hard-working they stay with me forever.
MPL – If you were a TV?series?
– That's?hard! hmmm….Games of Thrones. My girlfriend?calls me Jon Snow because of the accent.
MPL – If you were a drink?
– herb tea.
MPL – What! do you not drink alcohol?
I do drink alcohol, but I've been known to drink tea all day!
There is this concept I'm just now leaning called Bistronomy. What's your take on this?
For me Bistronomy is about bringing gastronomy into a relaxing environment with the same ethos same dedication to provide the best ingredients the best wines into an environment that is comfortable and relatable to everyone.
Would you define what you do and what SALT is as Bistronomy.
Yes, a little bit. I think the thing with us is that we have noting to prove really. So I can have fun with it.
How does the menu change from lunch to dinner?
Predominantly we like to experiment and use lunch as our playground for new recipes with produce we may have very few of.
Evenings are very tailored, and we start with 5 snacks, tea warm and inviting then 2 entrees, snack in the middle, fish course, main course, 2 deserts. The food is really healthy?and we don't use a lot of oil or butter one of our deserts has very little sugar and one of them has no sugar, giving people a healthy dinning experience.
How does the food culture in Paris compares to the different places you've lived and work?
Here it's a lifestyle choice. When I first arrived here, to see people in the street constantly was amazing, and you'd past them 3 hours later and the same people were just sitting there.
Whats your favorite thing to do in Paris?
Spending Sundays at the flea market at St. Ouen drinking bad red wine with the gypsy families and listening to Jazz Manouch.
Anything in general that you'd want to share with someone who's reading this wanting to get started as a chef, or ?to the 16-year-old you? what would you say?
I'd say its a long path if you choose this road but if you look back its very rewarding. It's just about putting your head down and working hard, trying not to question too much because you have to get the experience, and experience comes from long hours, hard work, a lot of beastings, and lots of burns and scars you'll look back at the experience and place you've traveled and friends you've made it's an international language cooking, so it's a privilege to cook.
Do?you think you'll stay in paris forever?
Well not forever, I'm getting pulled back to the sea, or in the forest. ?The way I want to cook soon will be about more forging and start aging my own vinegar, fermenting that last a long time and so forth.
Address: 6 Rue Rochebrune, 75011 Paris
Open everyday except Sundays and Mondays.
Service from 12 to 2:30pm then 7pm to 10:30pm