This list of events for June to do in Paris is a little over due, so sorry!
I want to say some really positive and nice things right now, but truth is this picture pretty much sums up Paris right now: it's wet and not like you've seen it before. So pack your umbrellas and coats, yes I know it's June for peets sake but mother nature has a mind of her own!
For the city of lights, Paris is not in the best light these days mostly due to the negative side effects of the attacks, and now due to the natural disaster of this 8 days rain marathon that has led to a flooding Seine River and surroundings, we're pretty much fed up of the rain 🙁
The Louvre has closed until further notice and so too has some of the Seine boat companies.?
?
Looking on the bright side though this is a great time to discover Paris Passages or even areas that are less known such as Belleville or trek to the 18th and spend some time wandering that "bad" neighborhood of La Goutte D'or where you'll find the best roasters?and coffee shop Cafe Lomi, across from the most colorful artistic graffiti wall that hides an old factory now (soon to be – I predict it!) summer hot spot Le Grand train with lots of outdoor and indoor seating all Train station themed thanks to old trains donated by SNCF the french railroad.?
If you want to shelter from the rain in the various coffee shops that Paris have now's the time to coffee hop – especially seeing the slew of new ones in the 11th arrondissement.?
?
So you see, there are still lots to do – maybe not picnicking any time soon in front of the Eiffel Tower, but let's see what else we can do, shall we ? :)?
?
NOT TO MISS
Afropunk Paris? – continues at le Trianon with acts like Morcheba, Saul Williams, Angel Haze, Michael Kiwanuka and a outdoor market on the parvee just in front lined with lots of colorful afro inspired garments and skin care products.?
Laduree is doing tis cool pop up – where all the macarons are beige in a limited edition pink box but you have to guess the flavor at its Rue Bonaparte location
https://www.youtube.com/watch?time_continue=10&v=Yxi9DUJZvbQ

Ladur?e Pop-up Store
21 rue Bonaparte – 75006 Paris
+33 1 44 07 64 87

We love Green festival ?– continues until June 5th with Diplo, Kelela, Hot CHip and many more musical acts at the Bois de Vincennes in Paris?
?
KIDS?
Take them to one of the many multi- usage spaces that have lots to do for the entire family like the Centre Pompidou which is the museum for modern art here, but has it's own amazing kids gallery, bookshop, cafe, restaurant and a magnificent almost 360 view of Paris at the very top (beside the restaurant Le George).
Or take them the 104 "CentreQautre" where there you'll see dancers, actors, clowns, and all other type of performers practice in a massive space surrounded by galleries, restaurants, bookshop, thrift shop and there'e even a food truck and lots of special events on weekend.?
?
ART
?
BOOKSHOP
?
FLOWER SHOP
One of my favorite flower shops (Anis on rue montorgrueil) just opened a second location this time on the up and coming street of Rue Saint Denis, they are called L'Histoire d'une Fleur at number 152, great staff (they speak very little Englsih) the flowers are always supre fresh and well priced. Great if you're staying in the 2nd arrondissement or Etienne Marcel area of Paris.
DRINK
Hotel Mathis has a splendid bar for cocktails should you be in the Champs Elysee area a wanting something swank yet cosy.?
?
?
EAT
I've personally enjoyed the exquisite cuisine at L'oiseau Rive Droite – for a fancy night out close to Hermes or Verjus Wine bar for an equally fancy meal in chic semi causal settings close to Palais Royal.?
STAY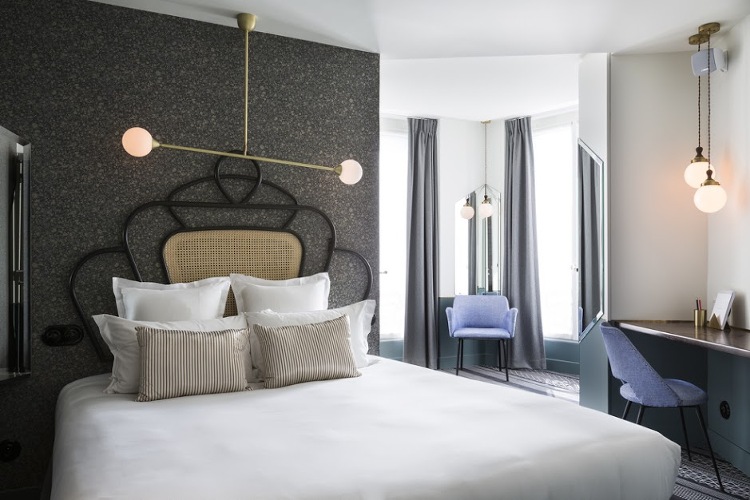 OR?
Visit Gustav Eiffel Secret apartment in the Eiffel Tower , a cosy small space once used by the architect as a hideaway.?
?
WANDER
Rue Cremieux (75012) has that colorful street we all love to see on our Paris instagram feed. If you're here hopefully the weather will behave and you can take your own little stroll and photos.?
?
Fete de la Musique
June 21st is typically the day in Paris where there is live music or DJs in every bars and on every corner, even the kid bands come out to play. Paris really comes alive then.?