There's not many blog posts on where to eat in paris with kids, so we had to show you guys a few of our top restaurants we've been enjoying with the children.  Either for a family dinner or little "gouter" aka snack time in France.  If you're coming to Paris soon, or recently moved with kids you'll like the list as it has places that are easily accessible via metro or rather central around some major tourist spots. But we promise these are all tested no tourist traps.
BON APPETIT! !
Remember how much fun it was going out to cafes before you had kids Taking your time picking out the perfect dish, sitting at the table for hours and lingering on the last sip of your cafe crime Now, not so much…All of a sudden the tiny Parisian tables seem ridiculously small and way too close to the couple who gave each other a look as soon as you sat down with your baby, at the table next to them. These days, all you want to do, is order and eat as fast as you can to avoid the imminent tantrum because you won't give your toddler the 10th glass of water that he asked for, or better yet, the waiter's incessant "vous souhaitez AUTRE chose Madame?" while eyeing the growing pile of crumbs that your kid is leaving next to her chair…
If this sounds a little too familiar, you're in luck. Here are some cool restaurants that not only have great food and ambiance but are also kid friendly (infants and fussy toddlers included!). Go out, enjoy Paris and don't worry about making a scene, it happens to the best of us. Bon appetit!
MARLON – (close to Eiffel Tower)
With its Baja Californian cuisine (with a delicious Mexican accent) and friendly staff, it's the perfect hangout even with kids. The decoration is modern, the dishes flavorful and the ambiance California cool. High chairs are available and the kids' meal is great and reasonably priced. Bonus: the kids are kept entertained with colored pencils and fun place mats.
Marlon Paris
159 rue de Grenelle – 75007 Paris
Tel: 01 40 60 12 12
Opening Hours:
Monday – Sat: 10h00 to 23h00
Sunday: 10h00 to 19h00
CAFE CENTRAL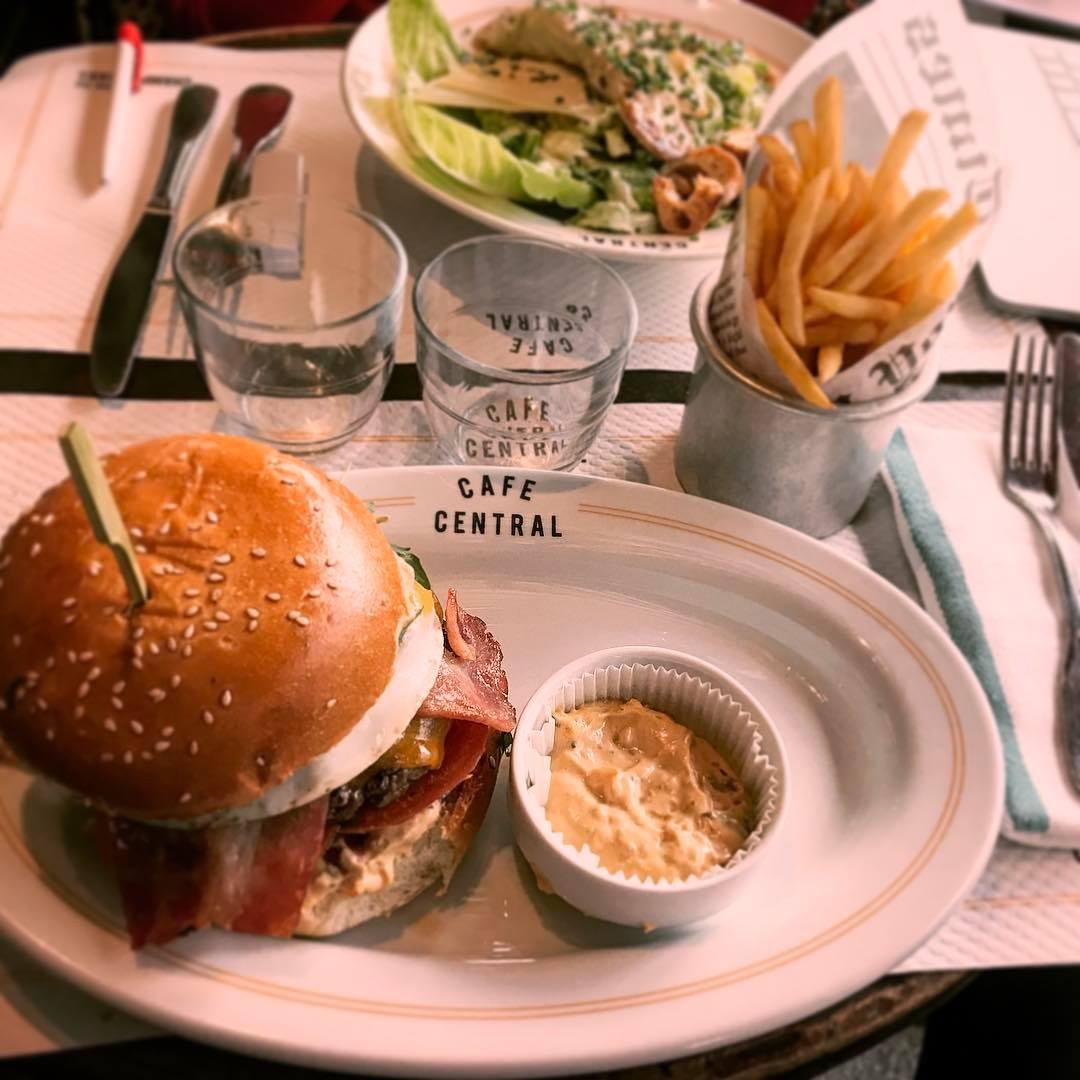 Situated right on the bustling pedestrian street, rue Cler, Cafe Central is the perfect spot to people watch. The terrace is ample and allows you to enjoy it with a big party. The menu is casual but trendy, mixing classic French brasserie dishes and international staples. For the kids, I recommend the tartare aller-retour (which you can ask to be well done) with a side of green beans. The staff is friendly and accommodating and will be happy to sit you inside even with a stroller. High chairs are available upon request.
Cafe Central
50 rue Cler – 75007 Paris
Tel: 01 47 05 00 53
Opening Hours:
Everyday: 7h00 to 1h00
LES EDITEURS
A literary cafe to say the least. Les Editeurs is a sophisticated but timelessly classic cafe found close to Odeon and Saint Sulpice. The inside is decorated like a library, holding more than 5 000 books. The story behind it? Publishing houses send their books here, giving people something to read while sipping their coffee. Surprisingly, the inside is spacious, making it easy for the waiters to find a comfortable spot for families. Tip: If you come with a larger party, request the upstairs where it's calmer and you can feel like you have the place to yourself. High chairs are available upon request.
Les Editeurs Cafe Paris
4, carrefour de l'Odeon – 75006 Paris
Tel: 01 43 26 67 76
Opening Hours:
Everyday: 8h00 to 2h00