One afternoon from his new home in the Barbes neighborhood of Paris Remy Savage invites us in for a cup of tea.
Inside this top Paris Barman's home we feel his taste in decor: vintage finds splashed minimally all over for a light bohemian sensibility, under the watchful eye of the most adorable little goldfish Benoit.
The following interview is short and sweet chit-chat, with 10 things I wanted to share with you guys about the head barman at one of Paris most respected cocktail bars – The Little Red Door .
We sat down in his deep brown leather sofa facing the big Parisian windows overlooking a small park.
As I plunge down, I exclaim, " On est bien la!" – loosely translating to " aren?t we are comfy here!"
Right above us was a simple shelf that seemed like a well curated selection of his favorite bottles for the moment of spirits and liquor.
Here is where I was introduced to the bubbling idea of Bar Savage ?- a fun project to create two drinks per week with only these bottles. You can follow along on his Instagram.
It all felt like one part artist studio and cosy home to me. ?Not what I'd expect for a barman I suppose – but then again Mr. Savage is not just a shaker and stirrer, there is very little separation from his art of cocktail creation and his personal life.
For example, he's recently done a university course in Architecture for the new menu creation at The Little Red Door, and he professes that he's happiest with his drinks, pals and behind the bar on a saturday night.
Having not prepared any questions in advance – it all went a little something like this: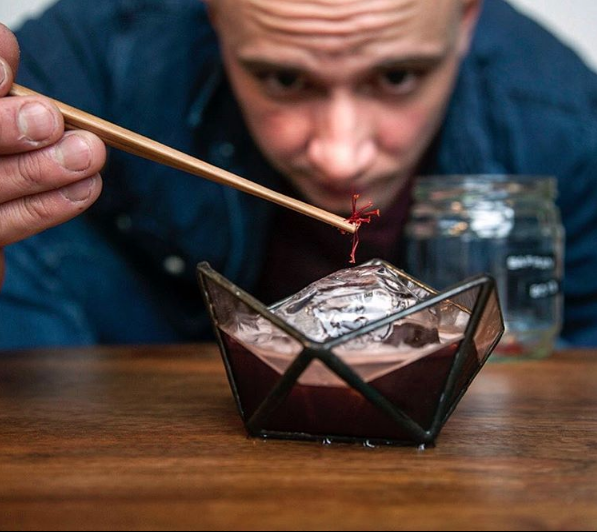 MPL – So Remy tell us a little about yourself?
Well I'm the head bartender at the Little Red Door, we do fun stuff. Like for example this menu collaboration with artist – mixing scents and colors.
He hands me a thick colorful pamphlet that looks like a book you buy in the gift shop of a recent museum exhibition at Centre Pompidou.
He continues, clients choose a drink from this visual scenery perspective. We aim to communicate avoiding flavors or words.
MPL – That's a pretty elaborate thing there. It seems, ammmm, well complicated?
Every person gets the same explanation and we take our time.
He responds to my naivety with a certain softness in his voice and tilt forward. I assume he's gotten this reaction before and is used to educating the folks like me on the other end of the creative process. ?
But this is drinks we?re talking about, come on. ?But I guess to be really good at what you do it is like art,n'est-ce pas?
Our next menu will be a focus on architecture and all the bar team studied a 6 months course at uni for architecture.
We wanted to see if there is any effect of this on how we work. ?We were 6 people in the team doing 5 hours each week and 11 different architectural movements and in turn we've made it into a drink experience. ?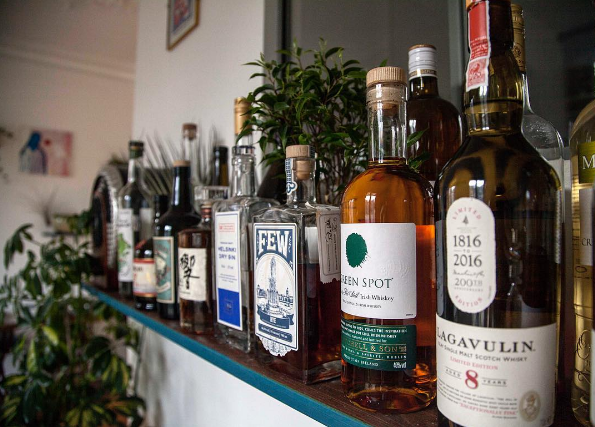 MPL – And so then how did it all start? ?I mean how did you decide you wanted to be a barman?
Well …my dad, he tells with a sparkle in his eyes.
He used to work in an Irish Pub in Lyon and to me one of the coolest man on earth. ?So it probably started from the love I had of seeing how people interact in pubs back in Lyon where I grew up.
MPL ?- Speaking of Dads, what were you like as a kid?
ha! – I was a shit kid to be honest. Well because it makes life fun. I'd say from especially about 14 years old.
MPL – And looking back now what advice would you give your 14 year old self?
Be a shit kid!
He goes in more detail to say that nowadays social life has become more important than life itself.
And that it?s important to just do something – pick something up and do your best – just try each time to do it with a bit more effort – go in depth.
MPL – And when you were a bit younger like around 11 years old, what did you enjoy doing? (I inquired as I ?was trying to get to the pre-shit kid era, hahaha)
I was just arriving in Lyon and if I remember well I loved drawing.
I'm actually still doing it today and am just as bad as I was then.
But I do love putting my ideas down.
Also around 11 years old I started my interest in philosophy and chess, but over the years I've lost the competitive aspect of both.
MPL – So how did this transition of passion happen?
Well an excess of passion if you're trying to be rational about it ( …like an irrational feeling like love) is counterintuitive and it just stopped making sense. So, I just lost interest in it on a competitive level.
MPL – What's your favorite ?thing to eat?
Grandmas pasta sauce there is just something scientific about it! The way ?she? makes it is also an emotional reaction to how that person makes the dish enjoyable. I mean I?ve watched her make it many times, and have tried myself to replicate it and can never get it to taste like hers.
MPL – 5 things you like to do in Paris?
1. ?Musee Rodin. The thinker – I just love walking around there.
Ice cream – then walk around in the Marais not because I work there but I really like the neighborhood like Rue des Rosiers.
Play chess- the peoples drugstore (closed now)
Really like to work! – so a busy Saturday night
Research – I like to learn and experiment
10 . MPL – If you were a pair of shoes, what would you be?
Don't know really – but I love these (and shows me his shoes) – some really worn in black leather soft shoes that he paid 600 euros he says in the Marais and even hand made. I wear them everyday of the year.
I love fashion it but I'm ?also very minimalist.
MPL – What?s your favorite TV show?
Rick and Morty – Cartoon by Dan Harman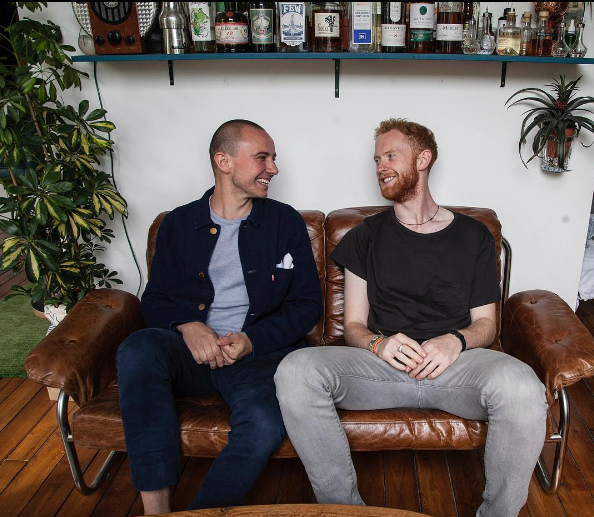 Remy with his Pal Tom who takes the awesome photos!?
MPL – What do you enjoy on a Sunday ?
Going to the Market
Food shopping ?and getting some wine, make a few drinks for myself and friends. I'm surrounded by my core of irish friends from Lyon and that makes Paris for me a great place.
See more about Remy Savage on his instagram : https://www.instagram.com/bar___savage/
and here
Or go say hi at Little Red Door
Additional photos thanks to Tom
LITTLE RED DOOR
Address: 60 Rue Charlot, 75003 Paris
| | |
| --- | --- |
| Wednesday | 6PM?2AM |
| Thursday | 6PM?3AM |
| Friday | 6PM?3AM |
| Saturday | 6PM?3AM |
| Sunday | 6PM?2AM |
| Monday | 6PM?2AM |
| Tuesday | 6PM?2AM |
Phone: 01 42 71 19 32
Metro: Filles du Calvaire (Line 8)
Map it: