When the weather is nice in Paris there is nothing more enticing than having a great dinner "en terrace" on a quiet street with a tall glass of white wine that pairs perfectly with your fish and foie gras  
But hold your horses, I'm jumping a bit ahead.
LArchimede  has good food – but you'll also find two pals with a love of customer service and quality produce. The small restaurant has lots of heart you can taste and feel. And promises to be a local favourite in a neighbourhood with a lot of charm close to the canal st. martin.
If you're looking for a date night restaurant this is the place. Casual-chic with it's yellow and blue chairs out front, or go for the minimalist seating with its small bar and blue chairs inside.
For the Food:
We dined on an asparagus "amuse bouche" cold soup (before the starter) , followed by a fresh mozzarella with multi-coloured tomatoes for the starter  and then moved on to the main dish of fish and fois gras ( a surprising combination! But you'll have to try it yourself!) I no longer eat meat, so I only tried the perfectly cooked fish on a bed of veggies. Yes, the photos do it justice. It was yummy!
"Sandre façon Rossini, asperges vertes, tomates cerises "
For dessert, I opted for a "Millefeuille" that was perfectly balanced made from direct from the chef Ahmed El Idrissi in the kitchen with the caramel sauce to the side (not on top like in other restaurants!) so I could easily dose my sweet intake.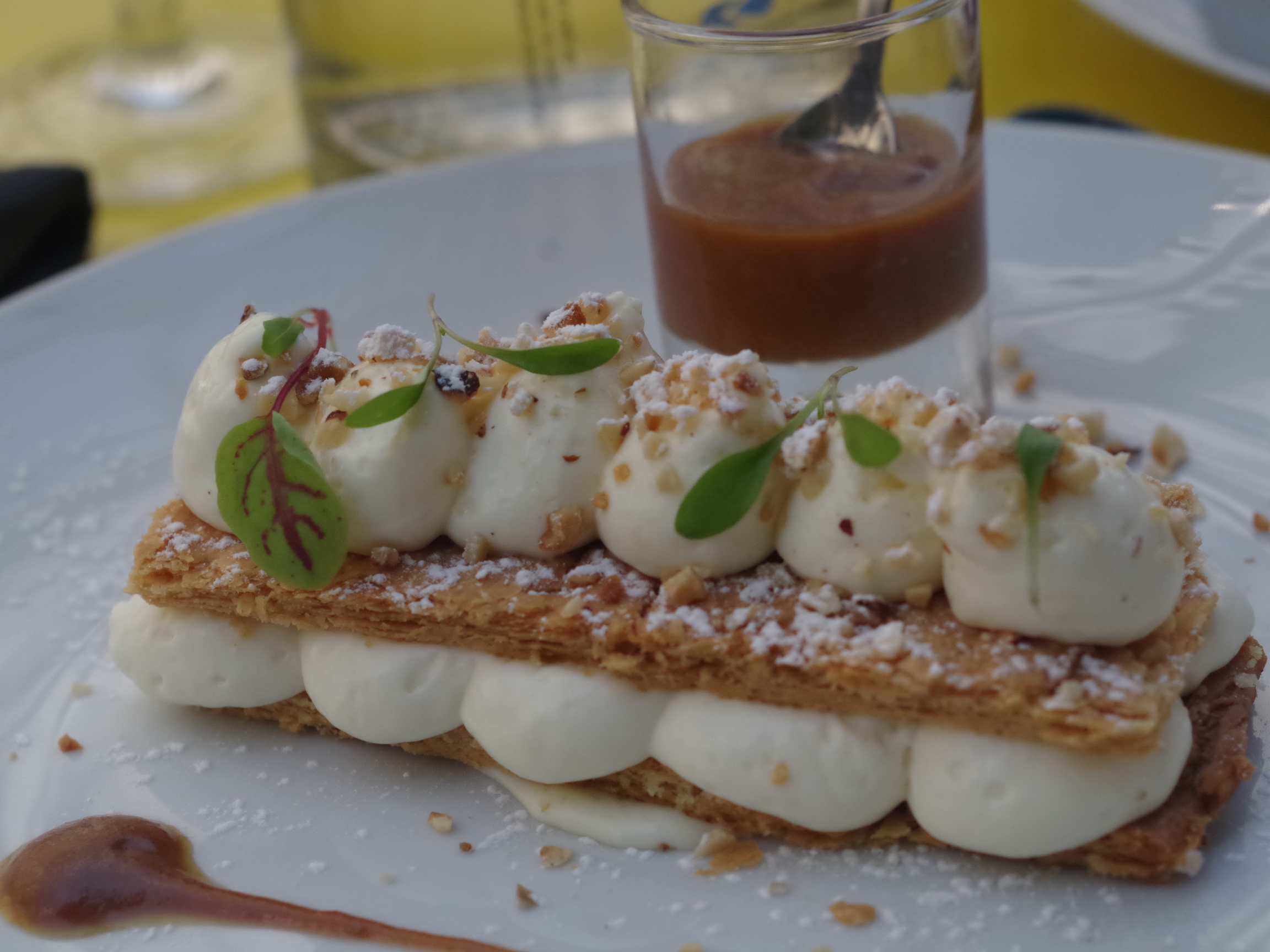 "Millefeuille vanille, éclats de noisette et caramel au beurre salé"
Special mention for the bread! When we started we were greeted not with a typical bread plate of baguette by Larry Battet, but a mixture of 3 different pieces of bread from a local bakery nearby : Sarasin, whole wheat and traditional baguette. The perfect welcome arrangement for a bread lover.
All in all, Larchmede is a great restaurant to enjoy season fresh food in Paris. Run by two pals.  Modern recipes mixed with a traditional French flair. Like the fish with fois gras and impressive wine selection.  Great for a chill date night. On a quiet street but a trendy part of Paris, close to Le Carillon and Le Comptoir General. The duo was also very friendly, spoke English and will make you feel right at home.
Prices:
35€ Menu of the day (appetizer/main dish/dessert)
25€ Menu of the day (appetizer /main dish OR main dish/dessert)
LArchimede
Address: 11 Rue Marie et Louise, 75010 Paris
Friday
12–2:30PM, 7–10:30PM
Saturday

(Bastille Day)

12–2:30PM, 7–10:30PM

Hours might differ

Sunday
Closed
Monday
Closed
Tuesday
12–2:30PM, 7–10:30PM
Wednesday
12–2:30PM, 7–10:30PM
Thursday
12–2:30PM, 7–10:30PM
NOTE: They close for the pause between 3 and 7 pm