When we talk about a sweet life in Paris – Amanda Scott one of the cofounders of ?Boneshaker Doughnut shop comes to mind. The girlboss has recently opened up a new shop in the
trendy 2nd Arrondissement
of Paris – close to some already prominent foodie powerhouses like Frenchie and
Lockwood
.
Boneshaker Paris
Address: 77 Rue d'Aboukir, 75002 Paris
Today we chat about life as a pastry chef, pursing your passion and living with a family in Paris.
?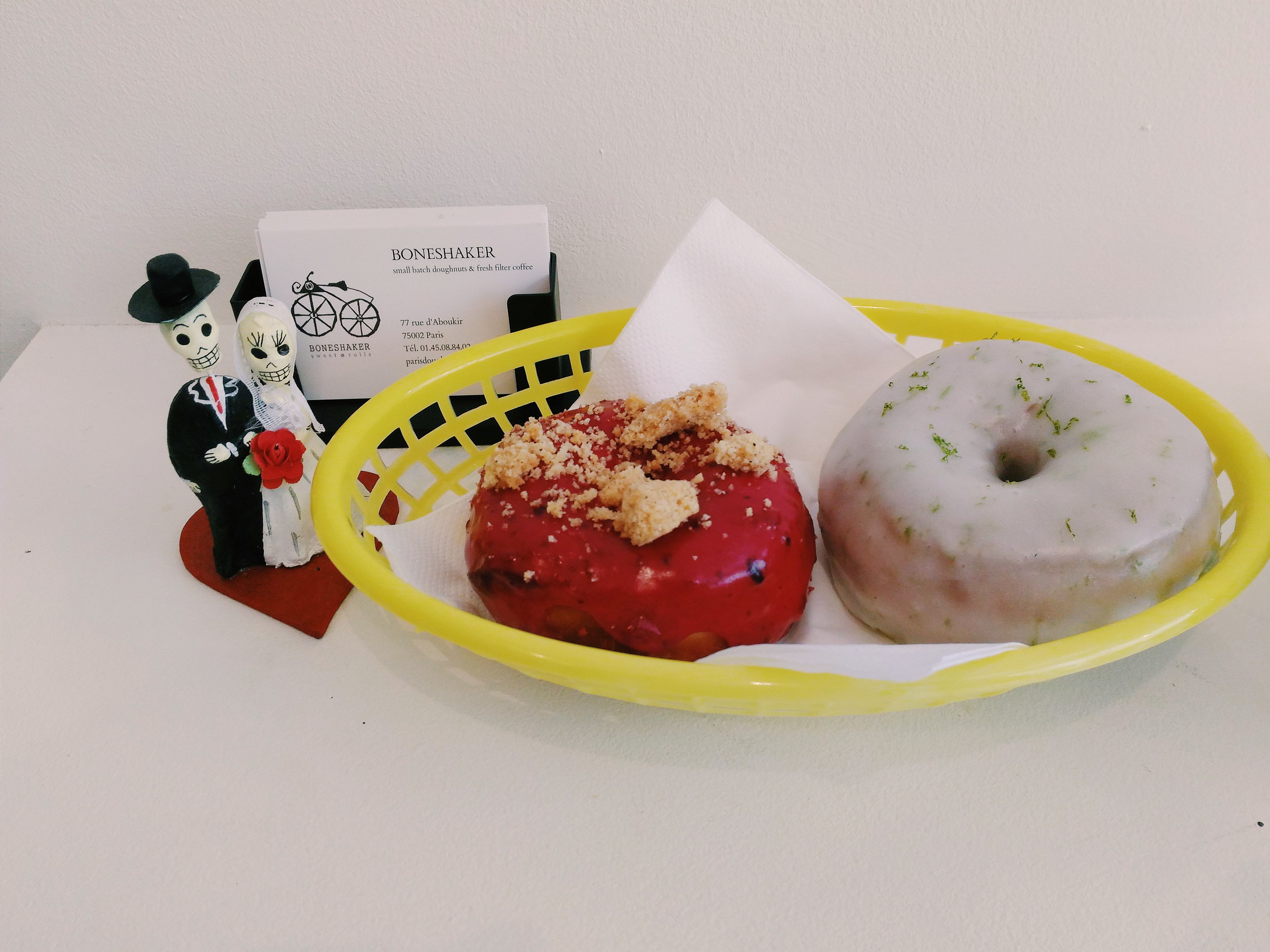 Tell us what brought you to Paris?
I did ?a ?year studying abroad from Sara Lawrence and then I extended, and eventually spent so much time trying to find new ways to stay because I loved it so much.
I always?cooked and loved desserts so I thought I'd go to pastry school, if nothing comes of it professionally said, well at least I would have done a year as a pastry school in Paris. ?So I did just that until I had my first son, then moving to Ireland with his dad.
So we did a few years in Dublin, and eventually we moved back to Paris with my first son back in 2012, because of missing it too much.
That's a big move,?especially?hen you do it with a family. What were some of the things you did on your second move?to Paris?
To be honest I had a little bit of ?hard time finding work. Which I found surprising?as I worked in two?kitchens in Dublin, one was even Michelin starred.
So in Paris, I started as a waitress?- then one day someone was absent from the kitchen at my work, and the next thing I know I ended up working in their pastry department at this?really old school place with good charcuterie.
During this time I got married and then we decided to have a 3rd little baby to add to the mix. Things became clearer for us after this, as my husband always worked in hospitality too, and it really became a natural step for us to want to have our own project.
When did you have the idea for a Doughnut shop??
We were visiting my family in the US and every morning we'd get donuts from this mom&pop shop down the road, back in 2013 – it was like a lightning bolt to us, we thought jokingly ?"wouldn't it be great if we could have these in Paris?"
I thought there were lots of people who would like to get a fresh fired homemade old school donut.
We're just wanting to be an old school donut shop and not really a trend. Trends end, we want to be that place you can always go for great donuts.
?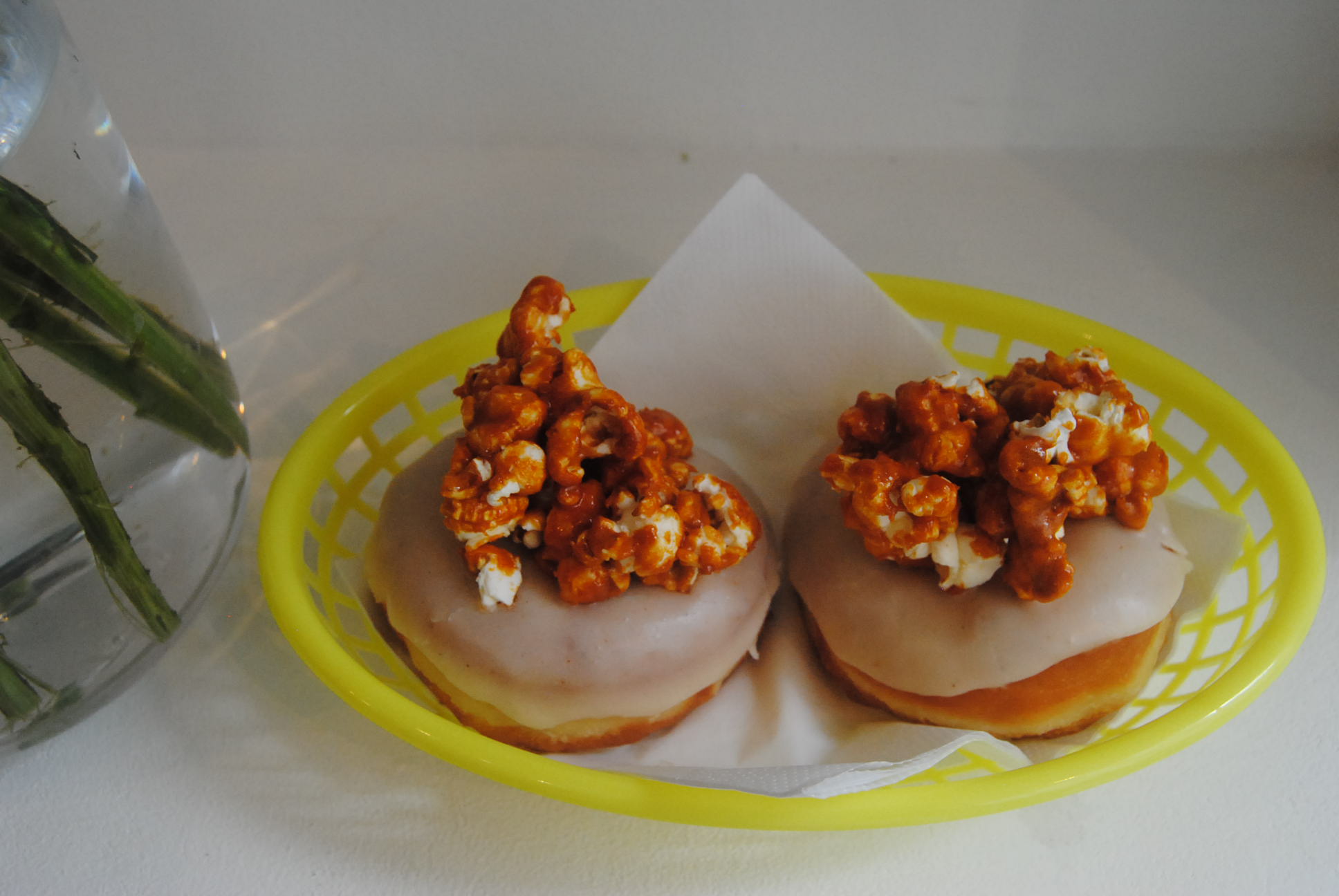 So what are your fave donuts to prepare?
My fave part of the job is for sure inventing new donuts ! I try to do 3 new flavors per week and sometimes I'll do more than that.
Tell us a little bit more about the project of the?boutique?
We're a small shop selling donuts and cinnamon rolls and it will be like a mom and pop ?type of thing my hubby and I – we sell filter coffee too.
You can get the croque-nuts and the french toast variation donuts…
Because we have been a pop-up in other space for a while now, people will now know where we are as we'll be in one spot!
This is our shop you come here and you get the donuts and this is also where we make them.
As a mom here in Paris. How do you find the school system here compared to what you know from the US, or Ireland where you were before the big move?
I went to catholic school – so my upbringing?- my mom jokes it was very easy to quench my rebel urges.
we've been really lucky here and I was rally nervous with Finn – the middle one.
Coming over here I really read that France was really bad for schools – so I got really nervous about sending him and I talked to a few friends about it.
They said put him straight in french school and again we got very lucky – because it was a really unconventional school in our neighborhood – it did encourage creative thought and they had someone there that would spend half day with them for special language tutor and he did his first?3 years in the French system there.
Only complaint I have is they are?a stickler for the school supply list – it's funny how it has to be exact:
you need a blue pen and if Finn doesn't have his green highlighter they freak out!
How do you prefer to move around Paris?
That's my bicycle with the baby seat (points) – I really hate taking the Metro.
Do you have any advice for your 15?year old self?
I was really desperate to get to New York and I just want her to gulp up life – I was very eager to do that.
I'd say keep doing what you're doing and work hard.
In the end you may ?end up in Paris running a donut shop.
In the end it just works out 🙂
You're a working Mom. Any advice for moms making the move in pursuit of happiness?but they don't want to disrupt too much for the child?
It's a balancing act there's no two ways around it. ?Being a working mom is hard – I've always been straight forward with employers ?- I have a son so that's my priority. that I will give 100% to the job but there will be times if my son has a 43 deg fever I'm?staying home.
As far as the move that was very personal.
I did think that the quality of life over here would be better, I am also someone who very much believes that nothing is permanent – so don't be afraid to take risks – most things are fixable.
The thing is I've always found that in my personal life that anytime I've made?a big change then things work out positively.
if its awful then you can just go back to what you're doing now.
Boneshaker Paris is now open and serves fresh handmade doughnuts (4 euros), filtered coffee (3 euros), ice cream floats (6.50 Euros).
OPEN: Tuesday to Friday?10am to 5pm,
Sunday until 4pm.
ClOSED: Mondays
ADDRESS:?77 Rue d'Aboukir, 75002 Paris
METRO: Sentier (line 3)
MAP IT:
?