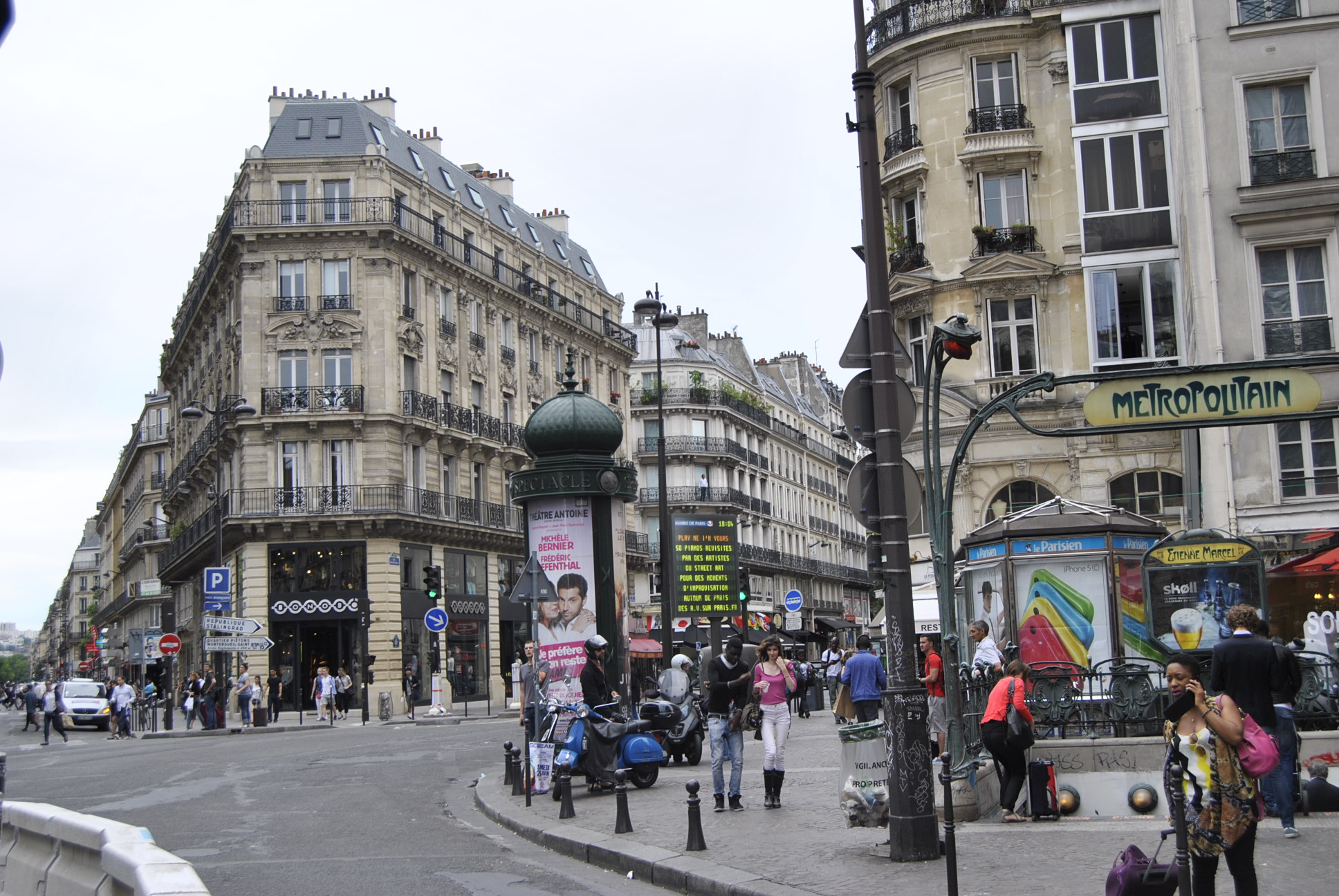 There are many options of places you can have breakfast, lunch, coffee and dinner near metro Etienne Marcel. This area offers some of paris best selection of Chic and Cheap,?Restaurants, Coffee Shops, Cocktails…etc
One of my favorite areas of Paris (leads onto my favorite street – Rue Montorgueil). Not only have I lived here for 6 years it's where my heart will always call home.
So I thought this was a good time as ever to share with you my top places. It's never too late to share the love right?
Dinner
These are places you can also have lunch for between 20 to 30 euros per plate – exquisitely cooked typical french meals such as escargot, confit canard (duck confit) and Beef bourguignon.
Perfect for a romantic date night, anniversary or just if you want to impress your out-of-town friends and family.
Pierrot -?18 Rue ?tienne Marcel, 75002 Paris
One of the best places to eat in the 2nd – always great french meals – prepared so well and the ambiance is a mix of business and local.
L'Escargot -?38 Rue Montorgueil, 75001 Paris
like the name suggest – snail lover heaven, but so much more!
Le Pas Sage -?1 Passage du Grand Cerf, 75002 Paris
Cosy little ambiance to eat very well, with a friendly staff in a historic passage of paris.
Pirouette -?5 Rue Mond?tour, 75001 Paris
a massive wine selection and the can't beat this price for a 6 course meal!
Coffee
Paris artisan (third wave) coffee scene is on the map. Mon Dieu! finally…and these two places will have you all flat whited out or slow things down with an aeropress.
Matamata -?58 Rue d'Argout, 75002 Paris
has an amazing warm feel in a small space, some of the best cakes and sandwiches – step downstairs and there is a quite little den ( but shhhhh I was hoping to keep this a secret a little while longer as I can get away with the free Wi-fi here for an entire morning uninterrupted!)
Lockwood -?73 Rue d'Aboukir, 75002 Paris
is also a killer cocktail bar by night. But let me tell you guys about the bomb dot com breakfast – bacon pancakes, yummy smooth yogurt with granola and season fruits make my body thankful to start the day with such "doucer" aka softness.
Lunch or Dinner
All these places are places I've tried and tested – some are better at some things than other, but all deliver decent meals in great ambiance.
Cafe Marie Stuart (closed for renovation)
my "cantine" for years, where I like to start the morning off with a croissant and Cafe Richard (this was back in the days where I knew nothing about couture coffee! ) The ambiance is rather trendy and the food is basic but good.
Cafe Etienne Marcel -?64 Rue Tiquetonne, 75002 Paris
one of the most fashionable places – not the place in itself, but because of the people who go to mostly people watch and mingle. it's at the angle of Rue Montmartre and great intersection to do the city sport of people watching over a salad.
Lezard Cafe -?32 Rue ?tienne Marcel, 75002 Paris
every single time the best burger – from a non burger joint. And the Goat cheese Salad is so good, with sundired tomatos. They also have a terrace so a nice place to relax when the weather is nice.
Le Cafe -?62 Rue Tiquetonne, 75001 Paris
Look up! The galactic interior is kitch but so cool. The food is typical french food – but always good. No wifi.
La Fee Nature -?69 Rue d'Argout, 75002 Paris
Want something healthy and green then you have to stop into this gluten-free heaven. Just across from Matamata.
Au Trois Elephant -36 Rue Tiquetonne, 75002 Paris
best thai food here.
Rice and Fish -?22 Rue Greneta, 75002 Paris
Hands down the best damn California style sushi and?Chirashi?bowls. The soba soup is also good.
Au Rocher Cancale -?78 Rue Montorgueil, 75002 Paris
The salads! And the exteriors is "beau a regarder" – pretty to look at.
MG Road -?205 Rue Saint-Martin, 75003 Paris
Reinveted and traditional indian food in a modern ambiance.
Fast Food / But good Food
like the best place in this neck of the woods.
Filakia -?9 Rue Mandar, 75002 Paris
Nostalgic for that sandwich you had in Greece? get a similar feeling here.
Miss Bahn Mi -?5 Rue Mandar, 75002 Paris
Colorful backdrop for a La Parisian craft beer, or homemade ginger beer with your vietnamian?sandwich ( in a crunchy baguette bread).
Blend Hamburger -?44 Rue d'Argout, 75002 Paris
The burgers are great – but the "touche special" is the sweet potato fries!
Drinks / Apero / Cocktail
Le Cafe Noir -?65 Rue Montmartre, 75002 Paris
One of the oldest "Authentic"?but most dependable bar to have a drink any time of the day – or take a pause. Situated just across from COS.
Le Tambour -?41 Rue Montmartre, 75002 Paris
Tradition has it that this little darling of the Parisian drink scene has been open since
Avek -?21 Rue Saint-Sauveur, 75002 Paris
Get your drink on in a cool ambiance ( a mix of vintage and Scandinavian design) with affordable drinks.
Experimental Cocktail Club – if you love the whole speak easy scene you'll love the feel here and the cocktails are worth every dime.
Pastries/ Bakery
Paul -?63 Rue Montorgueil, 75002 Paris
The lunch sandwiches are vegetarian (mozzarella pesto is my fave) and meat (ham, chicken, beef…)
Collet -?100 Rue Montorgueil, 75002 Paris
The only place I'll buy a salmon quiche (chunky et bon) for under 4 euros!
Stohrer -?51 Rue Montorgueil, 75002 Paris
You can't take a tour around the hood without stopping into this place – Queen Elizabeth's been here! Stohrer is the oldest pastry shop in paris and everything is damn good.
Shops
Killiwatch, BlueCheese, Stella Forest, COS, YAYA, Rock the Street, Wasted, Shinzo, Gas Bijoux, Agnes B, Le Coq SPortif, Manoush, Maje, Les Petites
Stay
Hotel Bachaumont, Les Bain Hotel Paris…
See
The Louvre, Centre Pompidou, L'Eglise Saint Eustache, Les Halles massive shopping mall/area