Burgers may not be your first thought when you imagine French cuisine, but they are taking Paris by storm! I think it's safe to say we have eaten more burgers in Paris than we ever did back home, and believe us the quality of burger here gives North America a run for its money. We don't know why, but having a burger in Paris makes it even more satisfying, are we alone in thinking this?
Here are a few of our regular burger joints. Have we missed any of your favourites? We wouldn't mind trying them out once you let us know what they are!
Not a meat eater or looking to eat a little healthier? Check out our Best Vegan/Vegetarian 2018 list.
PNY (Paris New York)
You've already heard us wax poetic about rue Faubourg Saint Denis, with its diverse restaurants and cafés so we won't say any more, but it was on this street that we first fell in love with PNY. Though PNY has opened many locations and offers delivery through Deliveroo, this is always where we go when we we want a PNY burger. The New York diner like space is the perfect backdrop for their massive burgers and home cut fries. Not to mention their large selection of milkshakes and desserts. All of their beef is locally sourced from a farm in Ponclet and fed with grains from Brittany. The burgers cost between 12-12.50 Euros and a side of fries will be about 3.50 Euros.
Open every day from 12:00pm – 3:00pm and 7:00pm – 11:30pm
Address: 74, rue du Faubourg St-Denis – Paris, 75010
Instagram: @pnyburger
Le Ruisseau
Le Ruisseau has more of a traditional Parisian restaurant feel with its small intimate tables and cool vibe, but do not let that fool you their burgers are definitely on par with what you're accustomed to. Le Ruisseau's buns are hand-made and baked in their kitchens twice a day, their home cut fries may be our favourites in Paris, and their meet is raised in Pas-de-Calais. If that isn't tempting enough they have a wide selection of cocktails and they even offer Sunday brunch. Would it be wrong of us to point out that all of its staff is attractive and charming? All burgers are served with fries or a salad, and they will run between 13 and 15 Euros. If you're having a hard time deciding they have a two mini burger option for 15 Euros.
Open every day except for Monday from 12pm -10:30pm
Address: Le Ruisseau 65 rue du ruisseau Paris, 75018
Instagram: @leruisseauparis
Hank Vegan Burger
Hank Vegan Burger is fast food with a vegan twist that is absolutely delicious. It offers organic vegan burgers made of a blend of tofu, rice and mushrooms and their gluten-free buns are baked specially for them every day. The service is quick and friendly, the space is small and cozy, and the burgers are every bit as juicy as a typical beef burger. Hank offers a petit menu which is a burger side and a drink for 13 Euros or a grand menu which is the petit plus a dessert for 15 Euros, but you can also get one of their burgers alone for 8.50 Euros.
Open every day from 12:00pm to 10:00pm
Address: 55 rue des Archives 75003 Paris
Instagram: @hankrestaurant
Shiso Burger
Shiso offers a selection of burgers blended perfectly with traditional Asian flavours. A crowd favourite is the Bulgobi Burger, but don't worry, there are a few non-fusion burgers on the menu for the less adventurous souls. Shiso does not cater exclusively to meat eaters; vegetarians have a tofu or mushroom option while pescatarians can choose between tuna, salmon and shrimp. The burgers will put you back between 12 and 13 Euros and fries are about 3.50 Euros.
Open Monday to Thursday 11:30am to 11:00pm, Fridays and Saturdays from 11:30am to 11:30pm, and Sundays from noon to 11:00pm
Address: 21 Quai Saint-Michel, 75005 Paris
Instagram: @shisoburgerparis
Animal Records – Animal Kitchen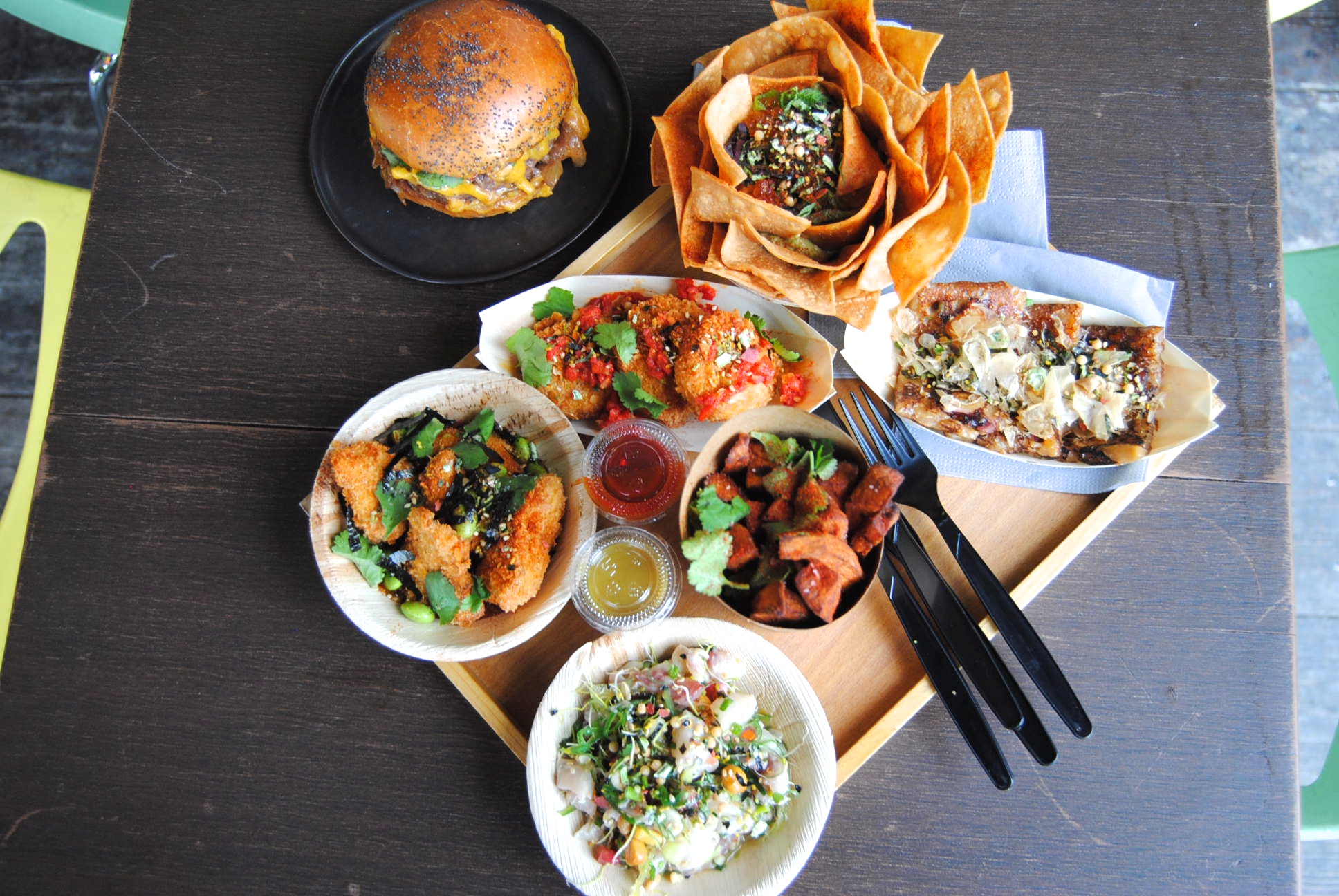 Animal Records was created in 2014 by a group of four friends interested in music and – of course – food. Their goal: make music and food come together. Their menu consists of a range of options all boasting unique blends of flavours, but their burger is definitely one our favourites!
Open everyday from 12:30pm to 2:20pm and 6:30pm to 10:30pm
Address: au Point Éphémère, 200 Quai de Valmy, 75010 Paris
Instagram: @animal.kitchen
SEE MORE of BEST OF 2018 HERE
Article written by Janelle