Cheerful cheap food is a rarity in Paris. But word on the street is that the new  Bouillon Pigalle is bringing back the original "normal" folks eatery type.
Simple traditional food like snails (escargot), onion soup, sausage…
Decent food at prices, and on this day they had a 9,80 euros Pistachio sausage meal as the star dish. Needless to say, the line was looonnnnggg…as you can see from this photo. But it does move along quickly and there are around 300 seats – with a second floor!
Wine for around 4 euros, desserts for around 4.50 euros – and a friendly ambiance can't be beat really.
Yes, it was a Sunday and a prime time for the family, hipster and all to come out to try the new addition to the slew of restaurants already owned by the same team from Chez Jeanette and Le Providence.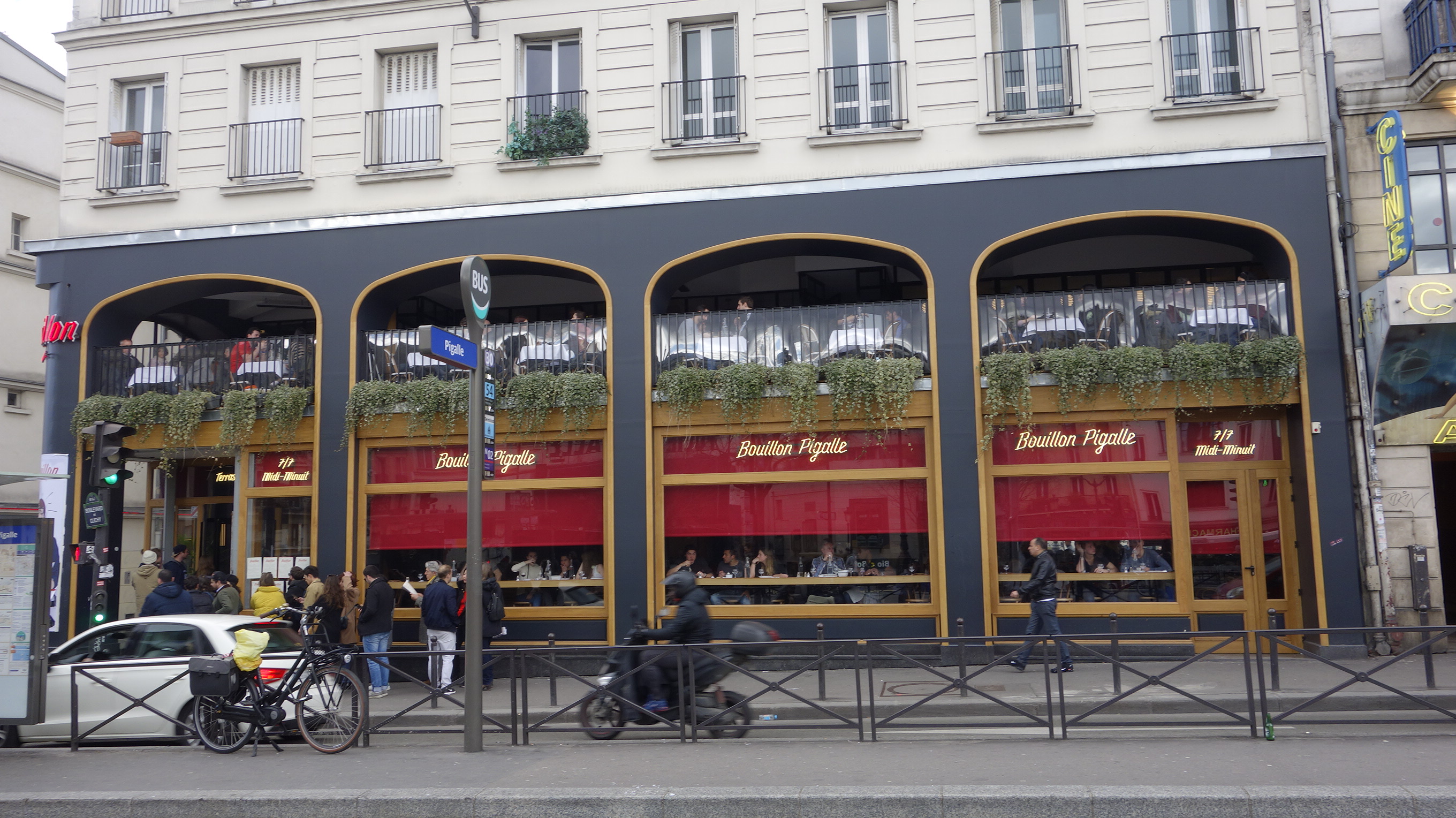 HISTORY OF BOUILLONS from Wikipedia
In France, a bouillon (French: bouillir, English: to boil) is a traditional (late 19th or early 20th century), spacious restaurant that usually serves traditional French cuisine, in particular a Bouillon (broth) which has provided the name for this class of restaurants.

When invented, the concept was to serve good quality food fast and at affordable prices. And in more than a century, not much has changed.

Today, the buildings of some bouillons are listed historical monuments
BOULLON PIGALLE
| | |
| --- | --- |
| Sunday | 12PM–12AM |
| Monday | 12PM–12AM |
| Tuesday | 12PM–12AM |
| Wednesday | 12PM–12AM |
| Thursday | 12PM–12AM |
| Friday | 12PM–12AM |
| Saturday | 12PM–12AM |
Map it:

you may also like: Brasserie Barbes, Best Cocktail Bars