There are tons of places to eat around the Sacre Coeur church in Montmartre. As this is my neighborhood and one of the places I often share with folks visiting Paris for tours here are my top places as a local and foodie. 
Let's get into it loves!
Brasseries Barbes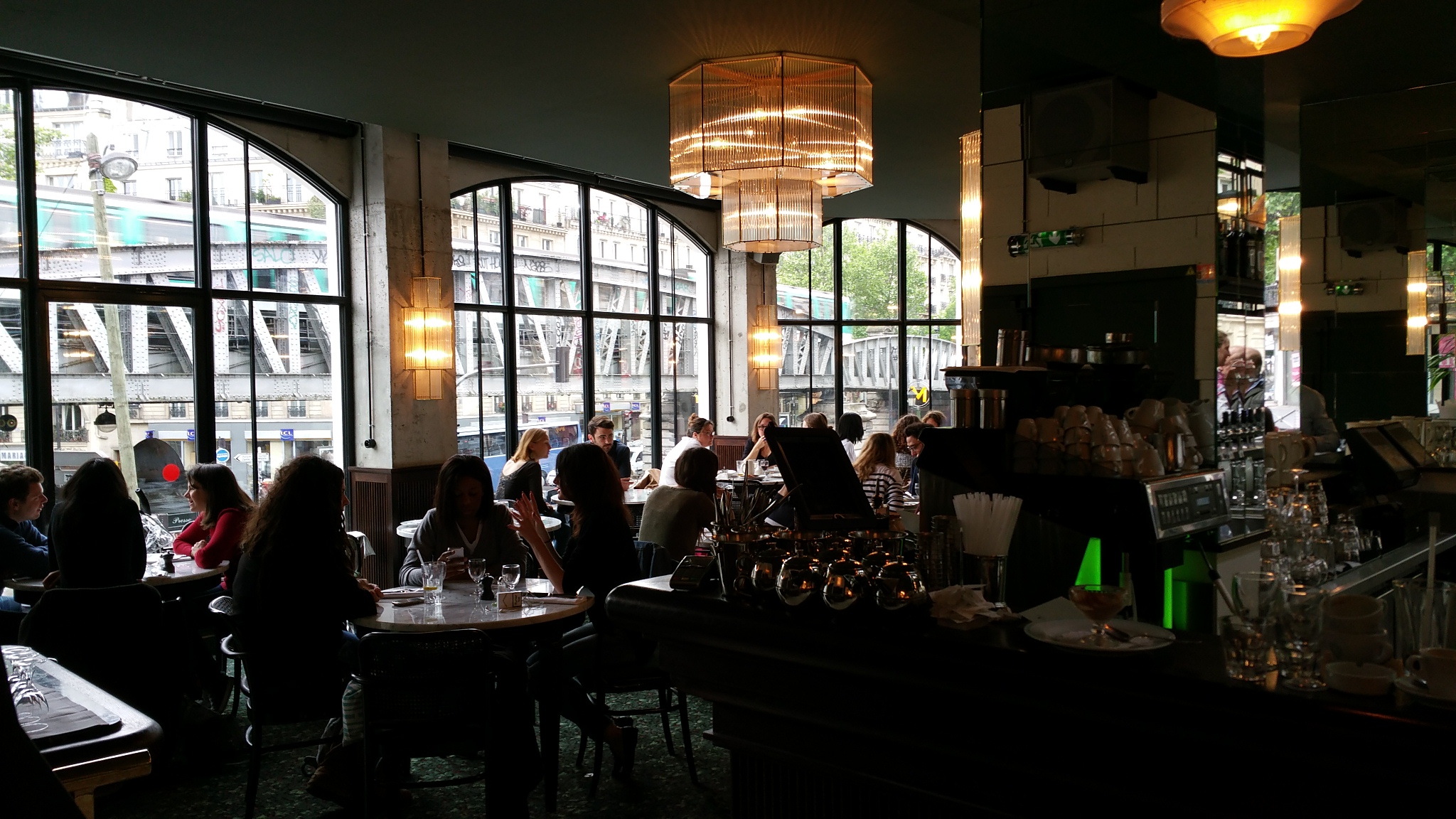 has typical french food in a trendy bistro-style setting close to the busting Barbes metro. A great place to experience the real everyday Montmartre; and watch from the second-floor glass windows the trains passing overhead.  You can read a full review here
Address: 2 Boulevard Barbès, 75018 Paris
Menu: brasseriebarbes.com
(but do look out for pickpockets close to the metro!) 
2. Hardware Society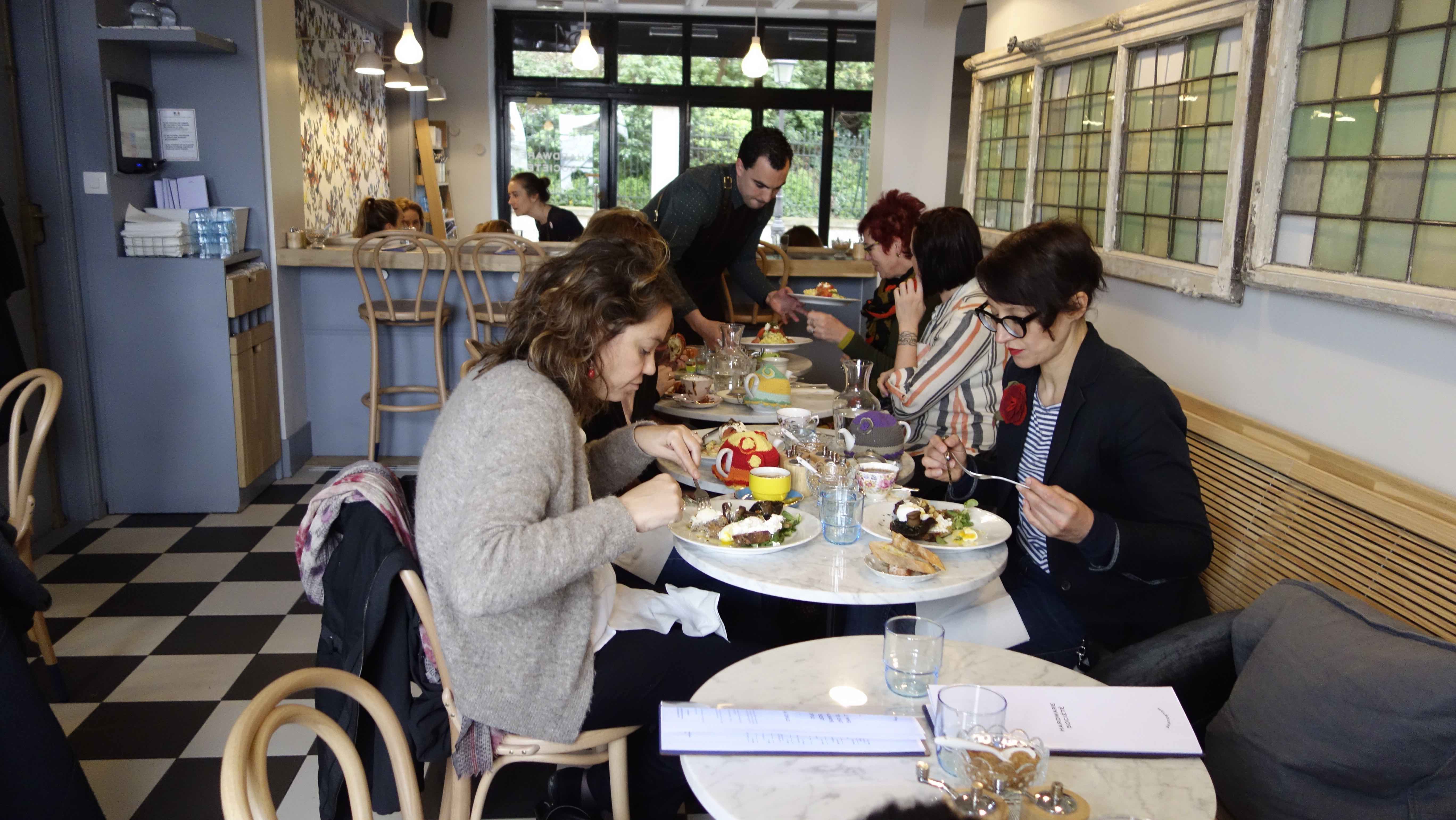 is literally at the foot of Sacre Coeur and in addition to being one of the best places to get real third-wave coffee the brunches are spectacular, and the decor is super colorful. 
You can read a full review here
Address: 10 Rue Lamarck, 75018 Paris
Closes 4PM
Order: hardwaresociete.com
3. Bouillon Pigalle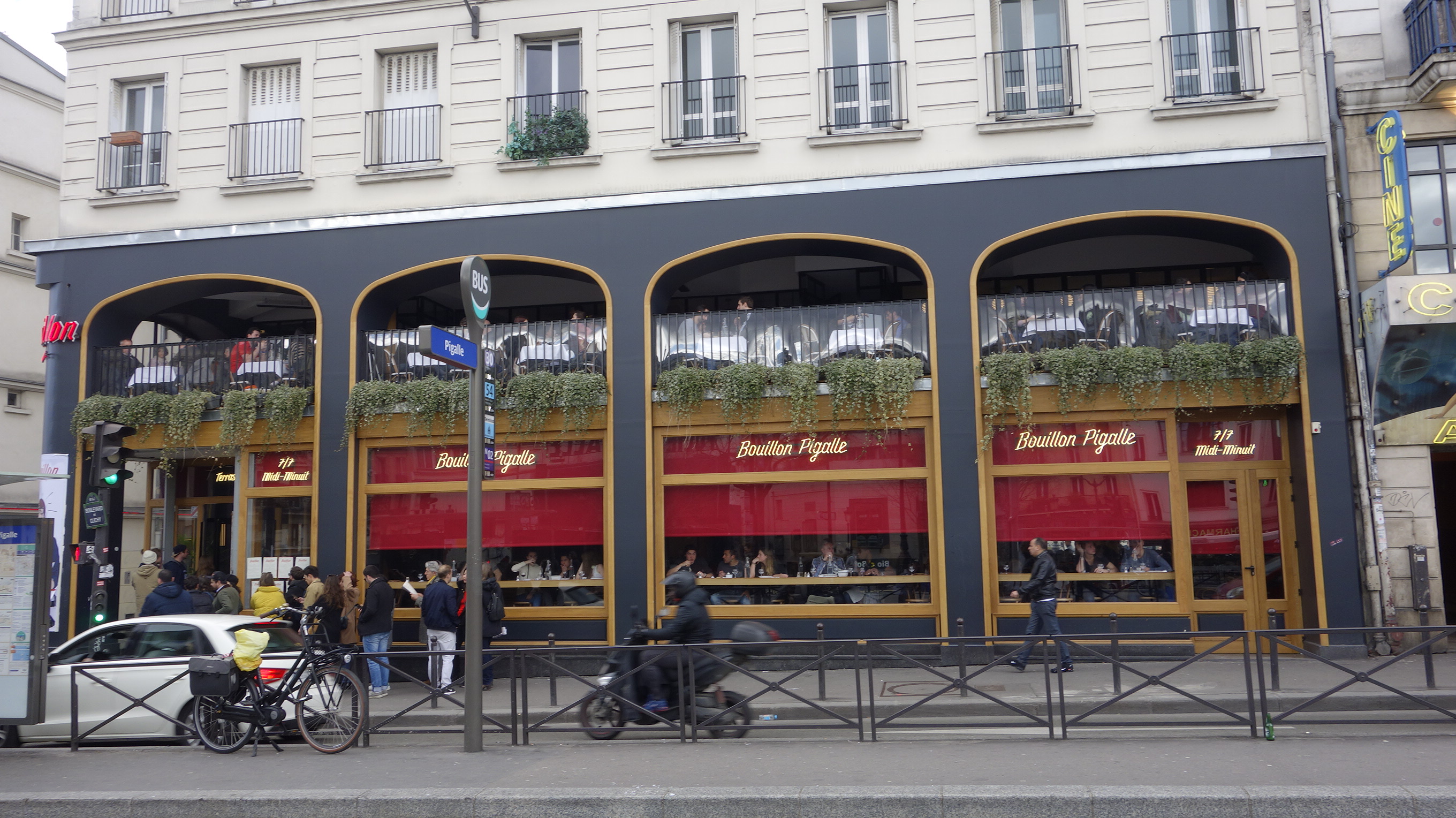 Perhaps my favorite place to eat in all of the 18th arrondissement so much so that every time i go i don't even have to order my favorite dessert the waiters know it by heart – the super mega beautiful and yummy profiterol!
Your best bet if to go a bit before opening to avoid the line or even if there's a line it goes fast because there's tons of seating inside and even a view upstairs over the place Pigalle.
You can get a traditional french meal here – think french onion soup, escargots, steak and fries, all the shebang under 10 euros – pretty much unheard of!
Address: 22 Boulevard de Clichy, 75018 Paris
Closes 12AM
Menu: bouillonpigalle.com
Order: bouillonservice.com
4. Pain Pain
For a fast lunch; go here to this bakery with an instagramable interior. No Pain no gain! (I couldn't resit!) You have to experience a true Parisian sandwich lunch here – go get the baguette fix of your life but also drool over the amazing pastries inside Pain Pain ( which means bread bread)
Just a few steps away from the metro Abbesses and on the shopping street of Rue de Martyrs.
Address: 88 Rue des Martyrs, 75018 Paris
Closes 8PM
5. La Bonne Franquette
Normally you want to avoid many of the restaurants just beside the Sacre Cour around Place Tetre, but not the case with La Bonne Franquette that is as much an historical institution and local favorite for great traditional french food and wine. And some of the best artists woud dine here like Pissarro, Sisley, Cézanne, Toulouse-Lautrec, Renoir, Monet, Zola
Address: 18 Rue Saint-Rustique, 75018 Paris
Menu: labonnefranquette.com
Order: labonnefranquette.com
6. Le Moulin de la Galette
One of the hidden gems on the hill full of history close to the old vineyard and an old dancehall ( Renoirs Jardin was painted from the back of here; Bal du moulin de la Galette is an 1876 painting by French artist Pierre-Auguste Renoir.)
One of the only remaining windmills in Montmartre. Add the gastronomy ( they have a Michelin star) – the fixed price meal is a steal! I feel almost guilty sharing this spot – but goodness should not b kept to oneself
Plan a romantic dinner here!
Moulin de la Galette
Address: 83 Rue Lepic, 75018 Paris
Hours: Open ⋅ Closes 10:30PM
Menu: moulindelagaletteparis.com
7. Abattoir végétal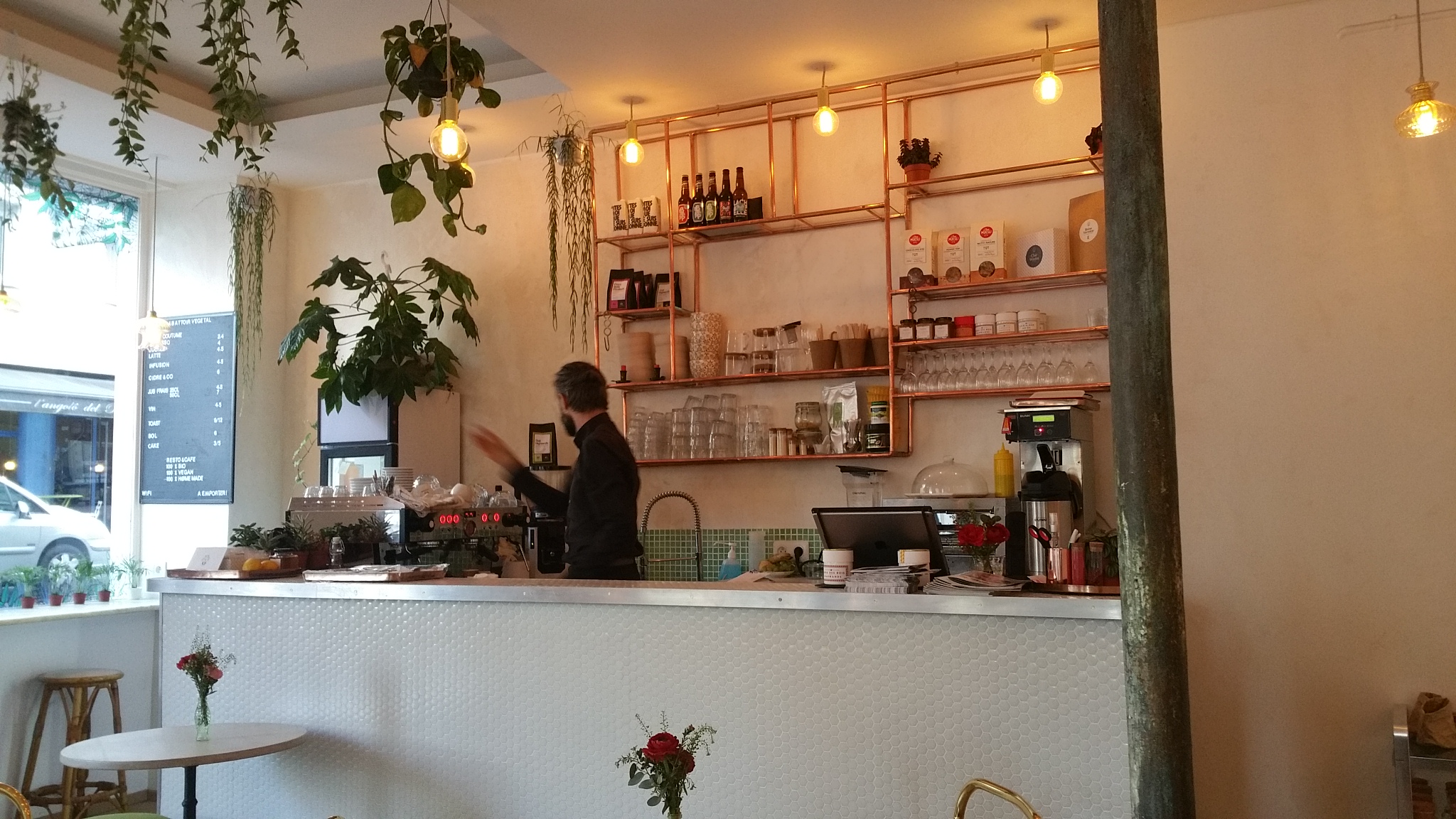 Literally translates to the vegetable slaughterhouse – how's that or getting your attention. But the colorful vegetarian and vegan dishes will get your attention more. 
You can read a full review here
Address: 61 Rue Ramey, 75018 Paris
Reservations: abattoirvegetal.com
Order: abattoirvegetal.com, deliveroo.fr
8. Olas
The coolest coffee kids right now in the 18th at Goutte D'Or hood offer world-class coffee roasted from Lomi and an eclectic menu including the best banana plantain cake! The spot is a local favorite with English spoken. Check their insta daily for the changing menu
Address: 14 Rue Marcadet, 75018 Paris
9. Koyaka Kitchen
Take a walk over to Rue Myrah  – one of the beautiful melting pot of the 18th hood and this is my favorite place to have African food take away style – a few doors down from Maison Chateau Rouge 
Perfect for an authentic local taste of the neighbourhood. Nothing fancy but extra points for being delicious!
You can read a full review of RUE MYRHA here
Address: 36 Rue Myrha, 75018 Paris
10. L'été en Pente Douce
One of my favorite places to have a salad sitting outside at the steps of Sacre Coeur. Sometimes they even have musicians playing there in the summertime. A great place to feel the Parisian charm
Address: 8 Rue Paul Albert, 75018 Paris
11. Le Café du Commerce
A local spot to have a typical Parisian lunch, dinner, or stop in for coffee. Just a stone's throw from the fabric market – Marché Saint Pierre. Frequented mostly by locals. The decor is simple yet cozy, with lots of terrasse seating. Friendly staff 
Address: 13 Rue de Clignancourt, 75018 Paris
Menu: cafeducommercebarbes.fr
Reservations: cafeducommercebarbes.fr
Order: cafeducommercebarbes.fr
12. Hotel Amour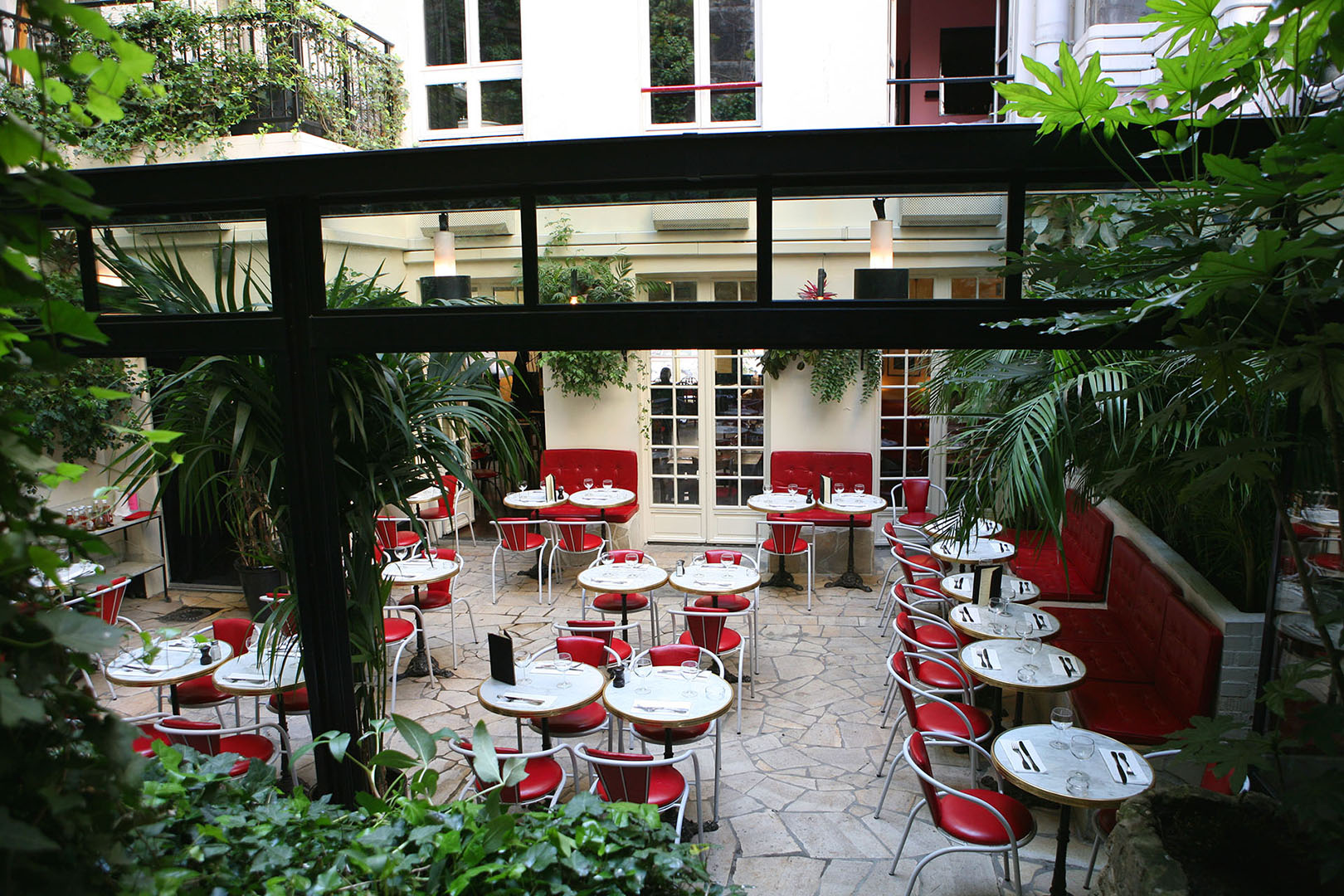 Walk a bit down towards pigalle and stop into Hotel Amour, this hotel and restaurant has a hidden interiour garden and is a local meeting spot for lovers and office lunches. Its super cute and one of the best brunches in south pigalle
You can read a full review
Address: 8 Rue de Navarin, 75009 Paris
13 . Bob's Bake shop
Fresh and tasty vegetarian food at this diner style hang is one of my favotite weekend spots. Pierre loves the bagels and I love the veggie bowls. Oh and the desserts are a serious thing here the pecan pie will have you dreaming about it for months to come.
You can read a full review
Address: BOB'S BAKE SHOP, 12 Espl. Nathalie Sarraute, 75018 Paris
Order: deliveroo.fr
14. Atelier Ramey
Seasonal french food and excellent presentation on a quiet part of Montmartre village. The wine list is also quite impressive and the staff is very friendly
Address: 23 Rue Ramey, 75018 Paris
Menu: atelier-ramey.com
Reservations: zenchef.com (preferred by this business), thefork.fr
15. Pink Mamma
One of the best PIzza you'll have in Paris, bt also great italian food and the design is to die for. The bar is one of the most photographable places in Paris. Sometimes there may be a line but its worth it.
Address: 20bis Rue de Douai, 75009 Paris
Reservations: sevenrooms.com
Order: ubereats.com, bit.ly
16. Nord Nord
French bistronomy in small shareable plates, a great wine list and a trendy place to hang out and mingle make this a great place to see the true local vibe of this part of the 18th. Every time I go im impressed at how they use the seasonal market finds to create an innovative menu
Address: 80 Rue Riquet, 75018 Paris
17. Le café NEON
A little gem in an unpretentious spot of the 18th; young chefs shaping the new paris bistro scene where the focus is on tradition quality and reasonable prices. They always have vegetarian options available. The terrace is a great place to meet locals in the summer time
Address: 26 Rue Doudeauville, 75018 Paris
Phone: 07 55 61 06 10
Reservations: lecafeneon.fr, thefork.fr
Order: deliveroo.fr
19. Polissons
If you're looking for a trendy spot with great food then here you go my friends.
Nice wine pairings with the small shareable plates. They must be doing something right because it's always pulling an interesting crowd of locals.
Address: 35 Rue Ramey, 75018 Paris
Hours: Closed ⋅ Opens 7:30PM
Reservations: thefork.fr
20. Terrass" Restaurant Bar
Looking for an aerial view of Paris? One of the best spots to have a girls night or a romantic dinner in the 18th arrondissement.
Watch as the Eiffel Tower lights up from this terrace as you have drinks or dinner. It's a bit on the pricier side, but so worth it.
Sometimes they will even have a DJ
Located in: Terrass Hotel
Address: 12 Rue Joseph de Maistre, 75018 Paris
Menu: terrass-hotel.com
MAP ALL LOCATIONS HERE