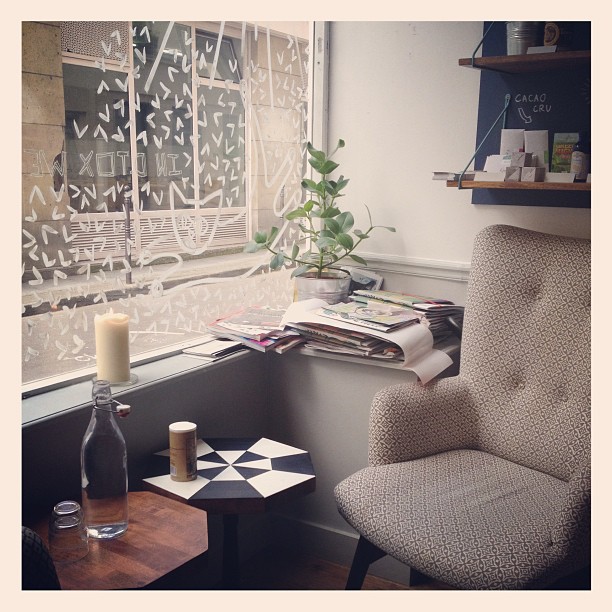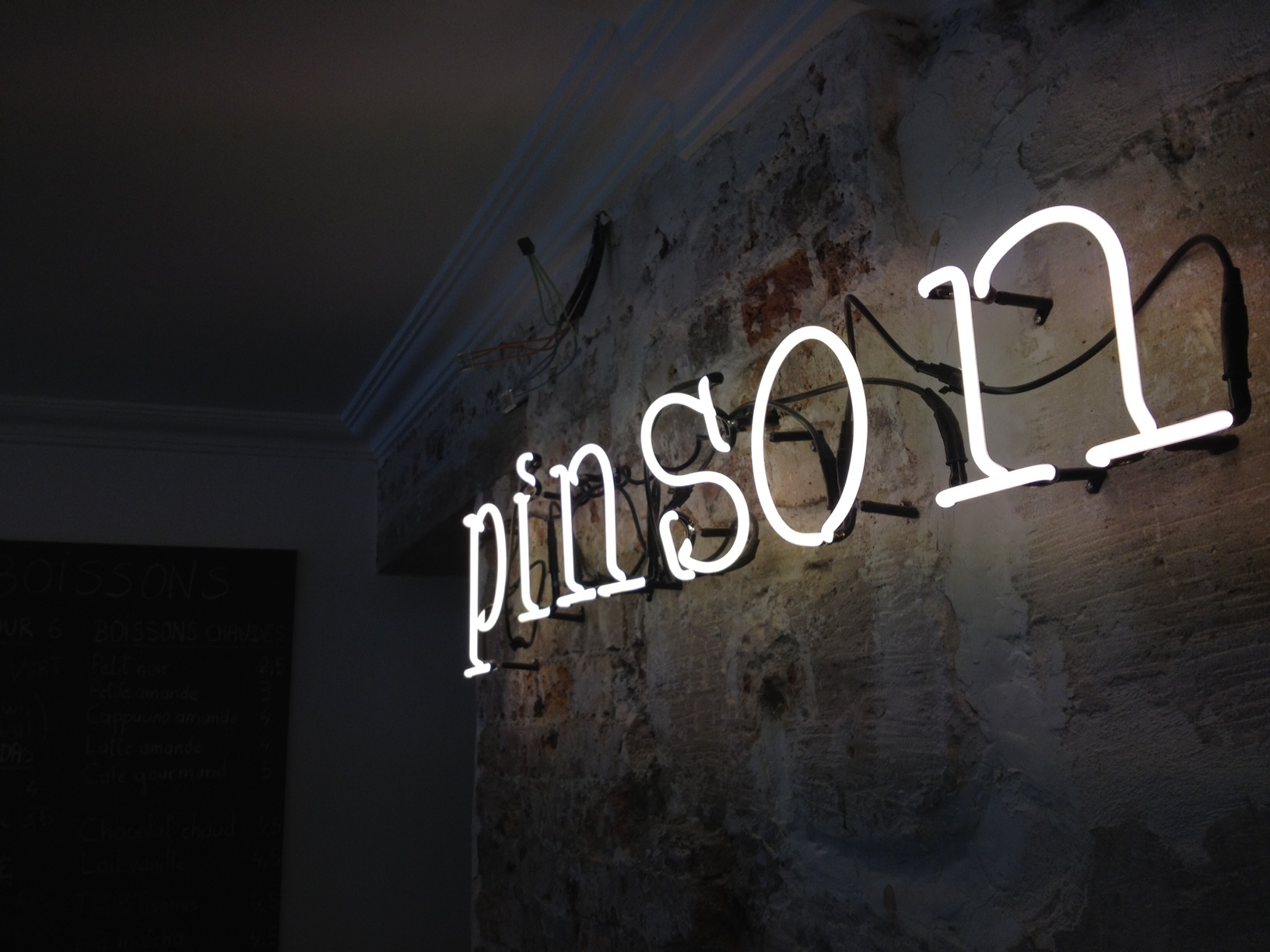 After 15 minutes of cycling, 2 red lights and wisps of the damp Parisian air on my face, I was there. I attached my bicycle at the intersection of Rue de Forez and Rue Charlot in the 3rd arrondisement of Paris, close to a little vegetarian spot that I?ve wanted to try for sometime now: Cafe Pinson.
These first few April days in Paris tasted like a moist mush of heavily diluted milk. The sun was out but the cold could still cut through my tweed coat as I cruised down Blvd Magenta and bended the round at Place de la Republic.
The Marais, always makes me happy, and today was the perfect excuse to ride over to the 3rd for a cup of almond milk cappuccino. I was seeing an ex-colleague, now good friend, who recently came back from San Francisco. We had a lot of catching up to do, and the multitasker in me suggested we do it all over breakfast.

She got there first, and I sank down in the black and white loveseat beside her (that was more suited for what the name implies), but two girlfriends were actually close enough to make the craziest jokes and giggle at just breaths way from each other; it felt like a year hadn?t past since we last saw each other.
Good friends can make you feel like you haven?t lost time, over lost distance.
When our breakfast arrived with toasts, homemade citrus marmalade, chocolate and coconut butter we spoke about the vegan menu options in-between praising the calming effect the caf?s? d?cor, wedding ceremonies and trips to London as we downed mouthful of fresh-made kiwi juice.
Fresh, was our laughter, our gathering and the cafe with their focus on healthy vegetarian and organic foods on the menu.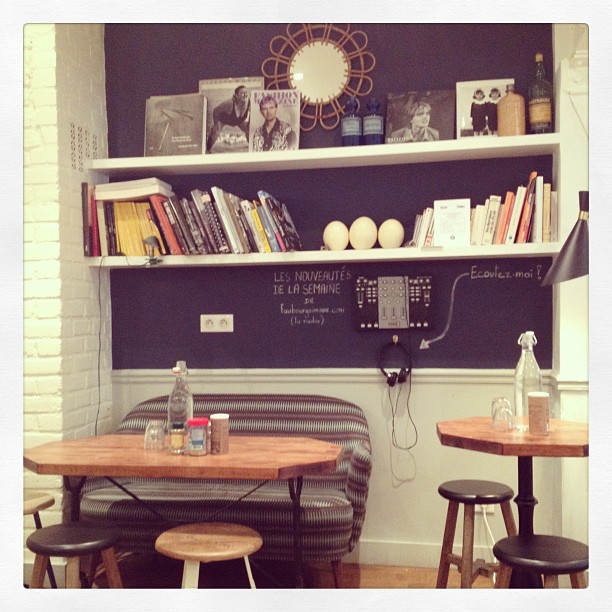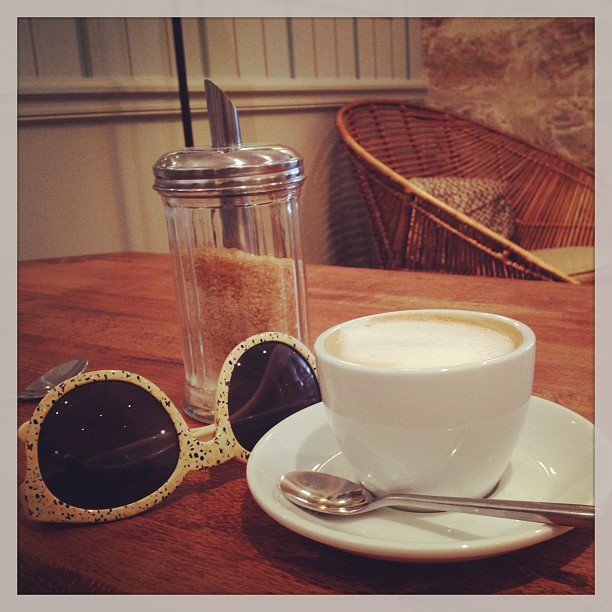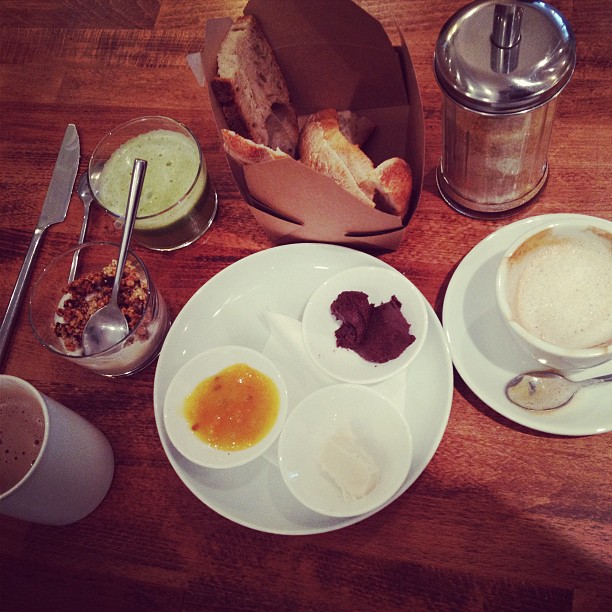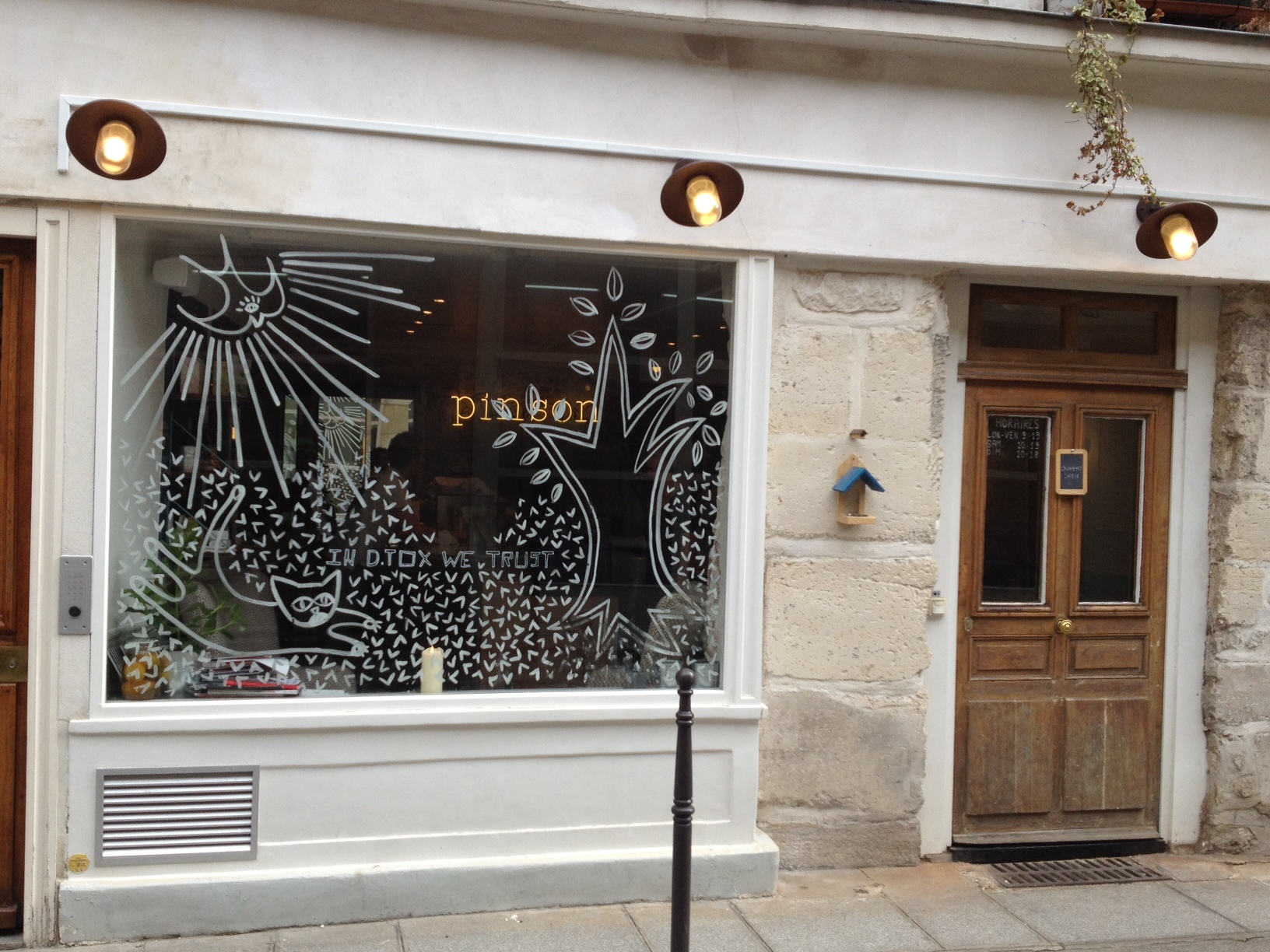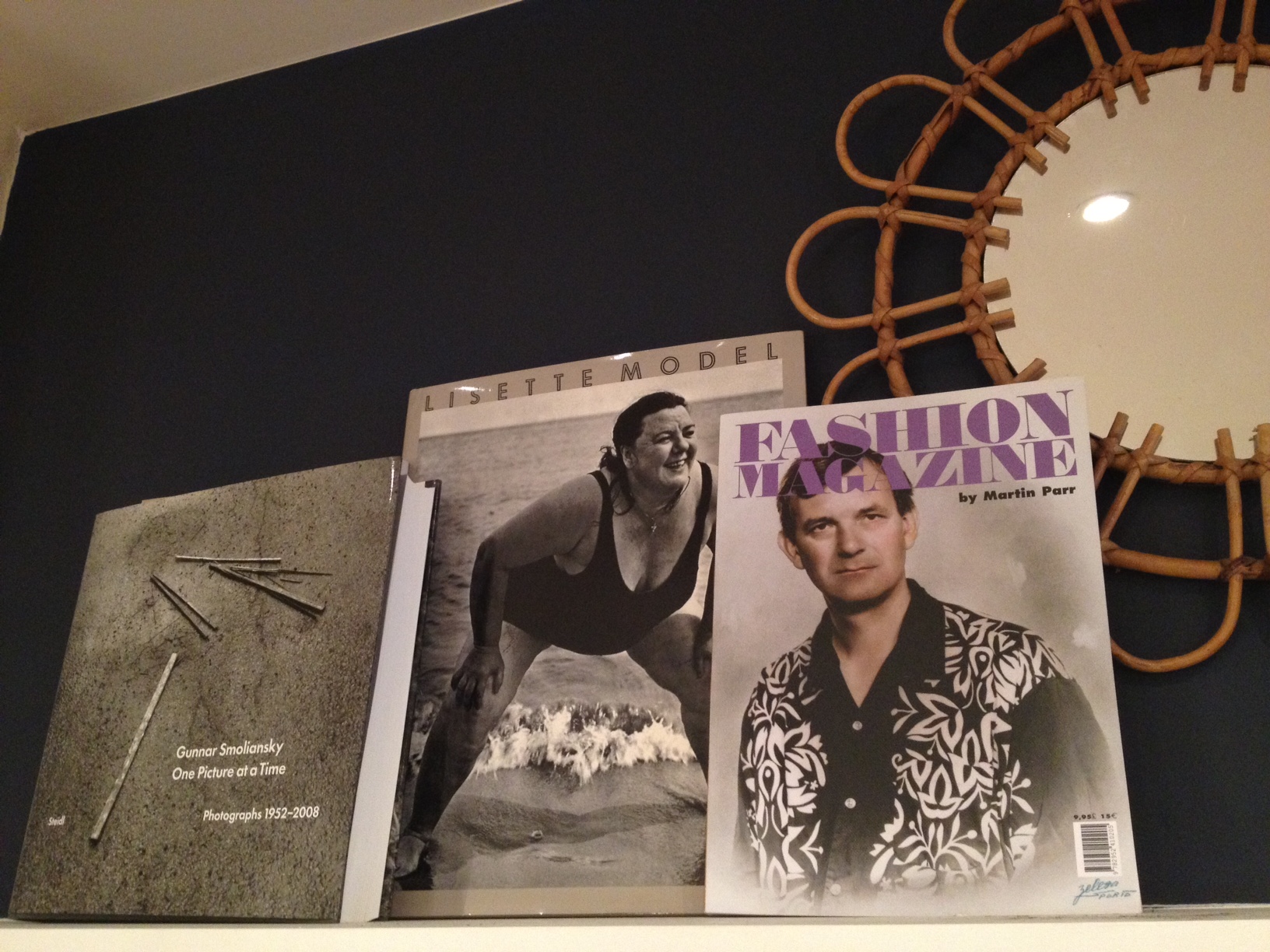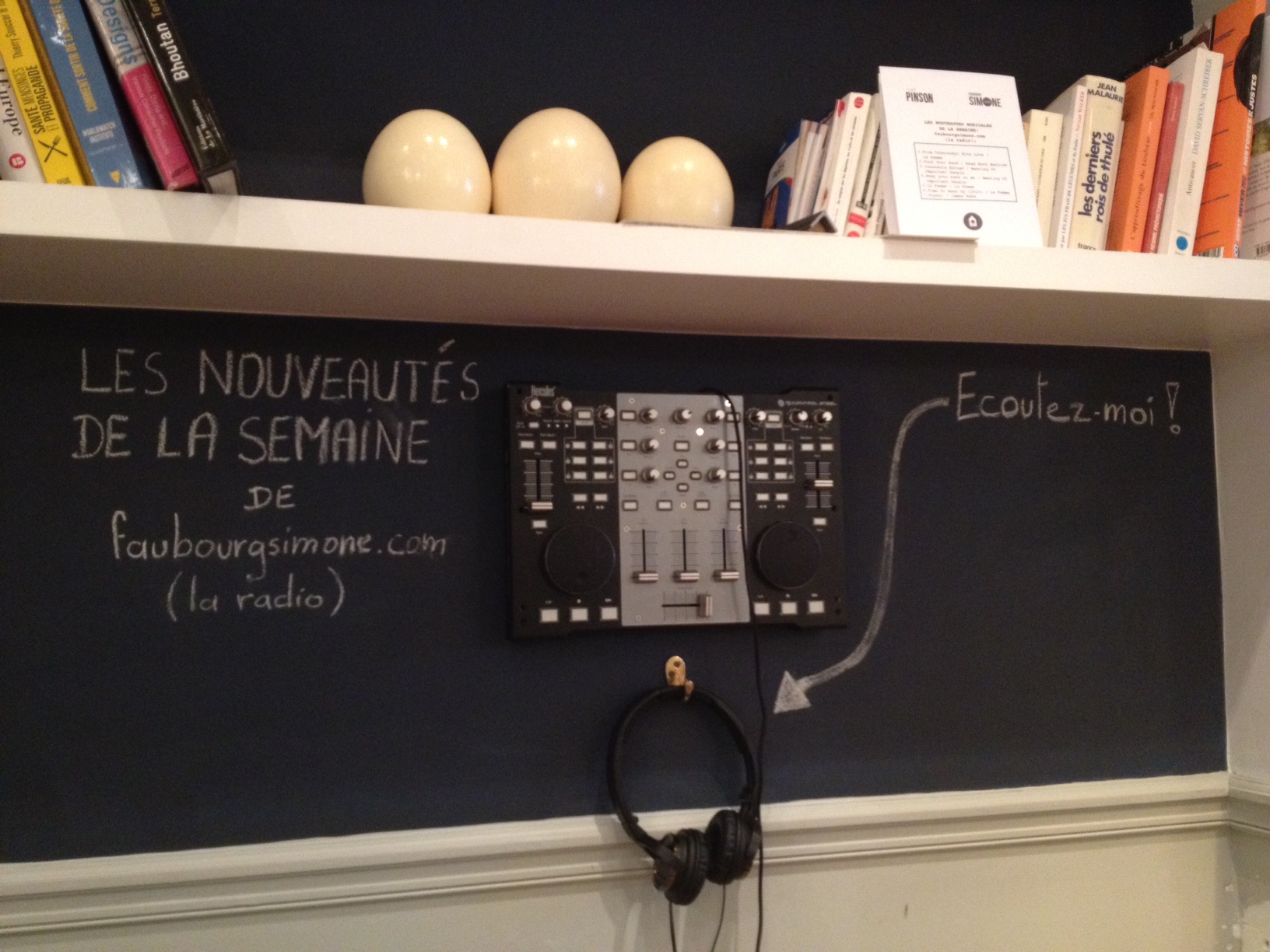 Just across the street from Nanashi and around the corner from Cafe Charlot, Caf? Pinson stands its own ground, and is the a little caf? that manages to make you feel homey with all the in-house baked goodies ? view of the open kitchen ? you can see the love being put into the preparation, and a very welcoming d?cor of comfy sofas, many reading materials ( books and magazines) and a cool wall hanging CD player ( with headphones to browse through an in-house selection).
I?ll be going back to try their vegan lunches soon, will keep you posted. Great place to take your out of town parents or in-law for breakfast before walking around in the Marais.
Address: Cafe Pinson
6 Rue du Forez, 75003 Paris
Metro: Filles du Calvaire (Line 8)
Brunch – 12 Euros
ALmond Cappuccino – 4.50 Eu
Ambiance – Cosy + Trendy
Serves – Veggies, Vegan, Vegetarian
Map It:

View Larger Map
Open:
Monday 9:00 am ? 7:00 pm
Tuesday 9:00 am ? 7:00 pm
Wednesday 9:00 am ? 7:00 pm
Thursday 9:00 am ? 7:00 pm
Friday 9:00 am ? 7:00 pm
Saturday 10:00 am ? 7:00 pm
Sunday 10:00 am ? 5:00 pm