Paris is one of the top gastronomical cities in the world; it is also one of the most expensive. If you're young in the city this summer without a lot of disposable income you can still have your cake and eat it too.
Also if you're an adventurous self-proclaimed foodie you'll love this list too. These picks below are not simply budget friendly, but they are genuinely great places to eat with friends or family in a casual atmosphere where the focus is on the food.
[Updated – December 2015] I've had to update this list has its been over 2 years – even though we still have the initially listed budget restaurants- we have some new places that are worthy of making the list – now over 20 spots!
Also, I've seen many Cheap Paris Blog and Pinterest boards that have options over 20 Euros. That's just ridiculous to me!
Most, if not all the places below are under 10 Euros #parisunder10euros on Instagram for weekly additions.
If you take a walk down Rue Faubourg Saint Denis (get out at the Chateau D'eau line 4 Metro) and you will find many cheap places to not only eat but drink.
1. Krishna Bhavan – Indian (Vegetarian)
A small vegetarian Indian restaurant that can get busy during lunch and dinner hours – but the staff is always courteous and you won't usually have to wait a long time. It sits at the corner of a small busy road in the La Chapelle – Gare du Nord Neighborhood where you can find many other Indian Restaurants, Supermarkets, Jewelry sellers and Butchers.
The Cardamom Tea is super sweet and spicy at the same time, so to be avoided if you're a diabetic.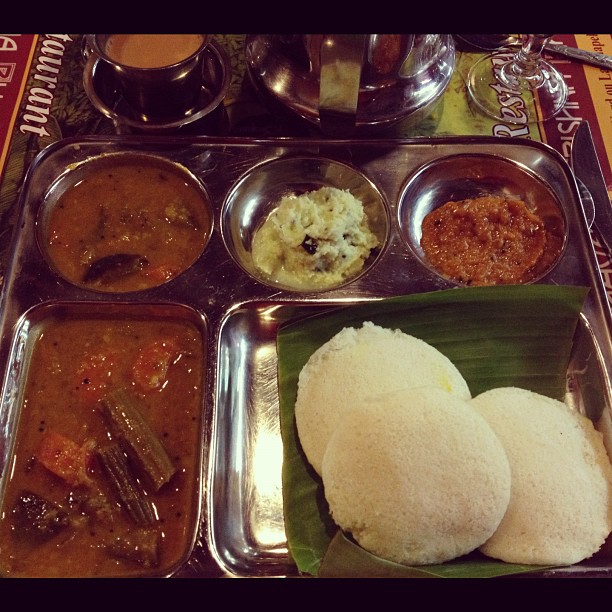 Pro: Great vegetarian choices
Cons: Can be crowded
Average Price: 10 Euros including drink
Metro: Gare du Nord or La Chapelle (Lines 4, 5 or 2)
Address: 24 Rue Cail, 75010 Paris, France
Telephone: +33 1 42 05 78 43
Map It:

View in a larger map
2. Wenzhou – Chinese
Rue au Maire is a little Chinatown in Paris that's now home to two of my favorite Chinese restaurants that I frequent with my family, one for the curry dishes (Au Bon Pho) and this one (Wenzhou) for everything else. Inside 8 large dinning tables are close to each other, and you'll most likely have to share a table with another party but the food is worth it. Some of the dishes under 6 Euros include sauteed broccoli, shrimp ravioli soup, and "potage" Pekinois.
This is the Peking Potage Soup (3 Euros) –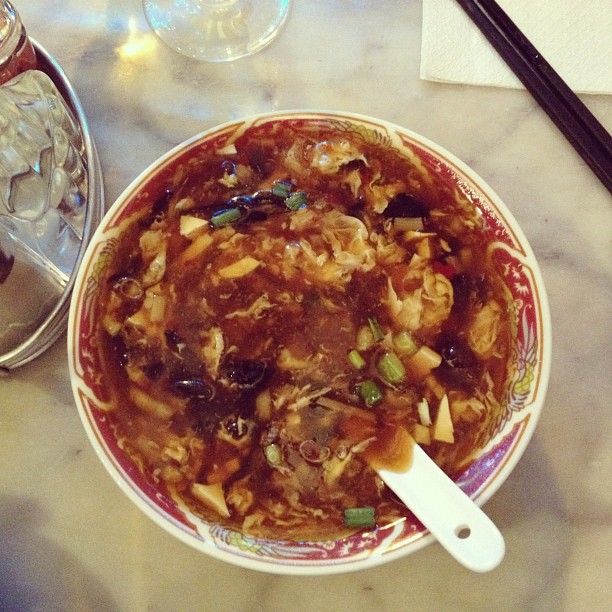 Pro: Typical Chinese dishes
Cons: Not the best place to get a curry (go next door to Au Bon Pho).
Average Price: 6 Euros
Metro: Arts et M?tier (Line 11)
Address: 18 Rue au Maire, 75003 Paris, France
Telephone: +33 1 42 74 05 09 ?
Map It:

View in a larger map
3. Urfa Durum – Kurd Sandwiches
Fresh Brick oven sandwich wraps with your choice of meat or vegetables, under 6 Euros and a Lahmacum (seen in photo is only 2. 50 Euros!). You can eat in or out. The owners are super friendly.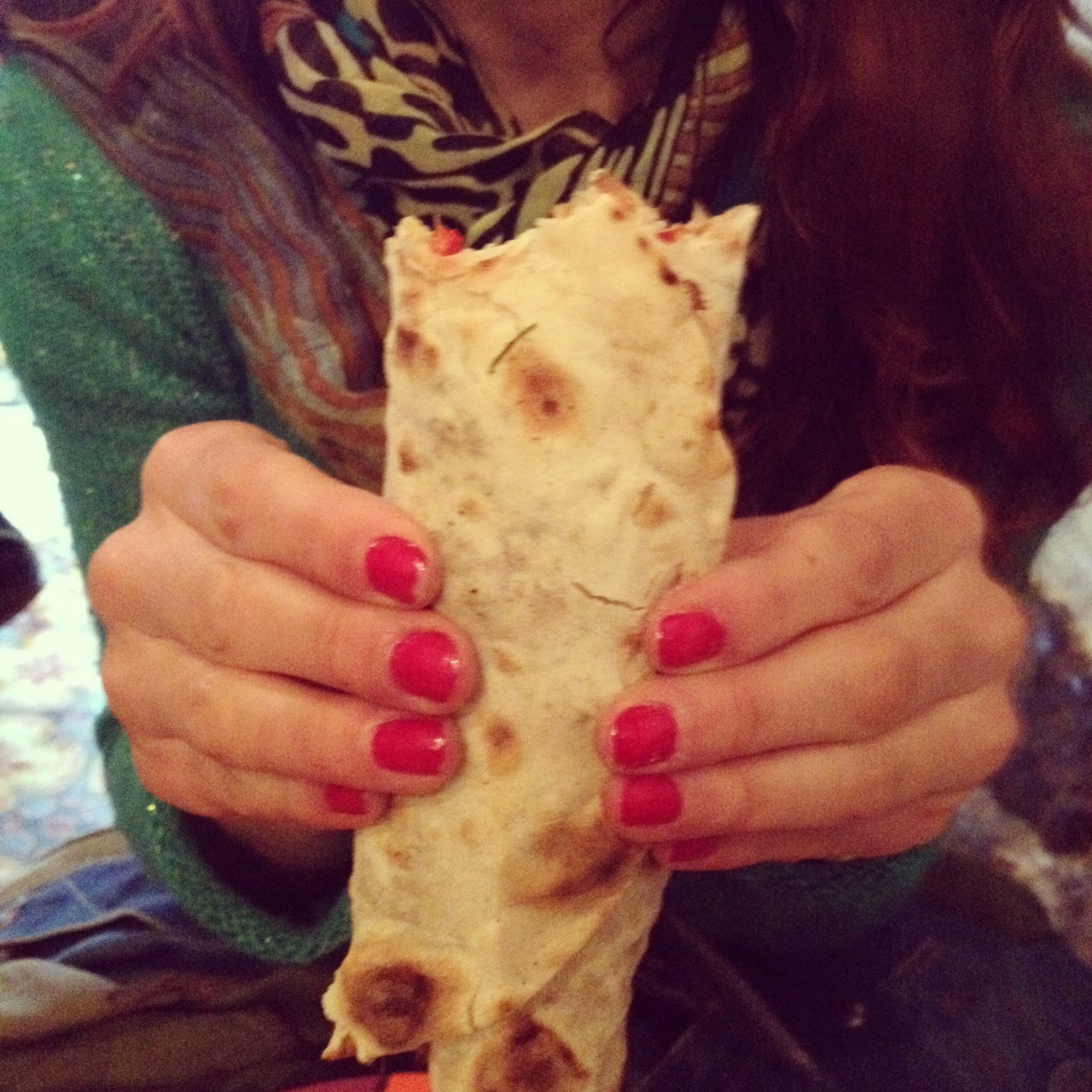 Pro: Authentic Kurd Sandwiches, and nice terrace seating to eat when weather is nice out. Also close to other restos.
Cons: small stools for people with long legs
Average Price: 6 Euros
Metro: Chateau D'eau (Line 4)
Address:58 Rue du Faubourg-Saint-Denis 75010 Paris, France
Telephone: +33 1 48 24 12 84
Map It:

View Larger Map
4. MI-VA-MI – Falafel
In the Marais there are many places to get a good falafel – there is only one place to get a great falafel and its here at Mi-Va-Mi. For years I was a fan of Chez Marianne then the falafels got smaller and the quality was never consistent, then I tried around the corner L'as du Falafel, and was not impressed by the longest waiting line ever for mediocre falafel. So I hope over to Mi-Va-Mi and my goodness, I'm yet to be disappointed!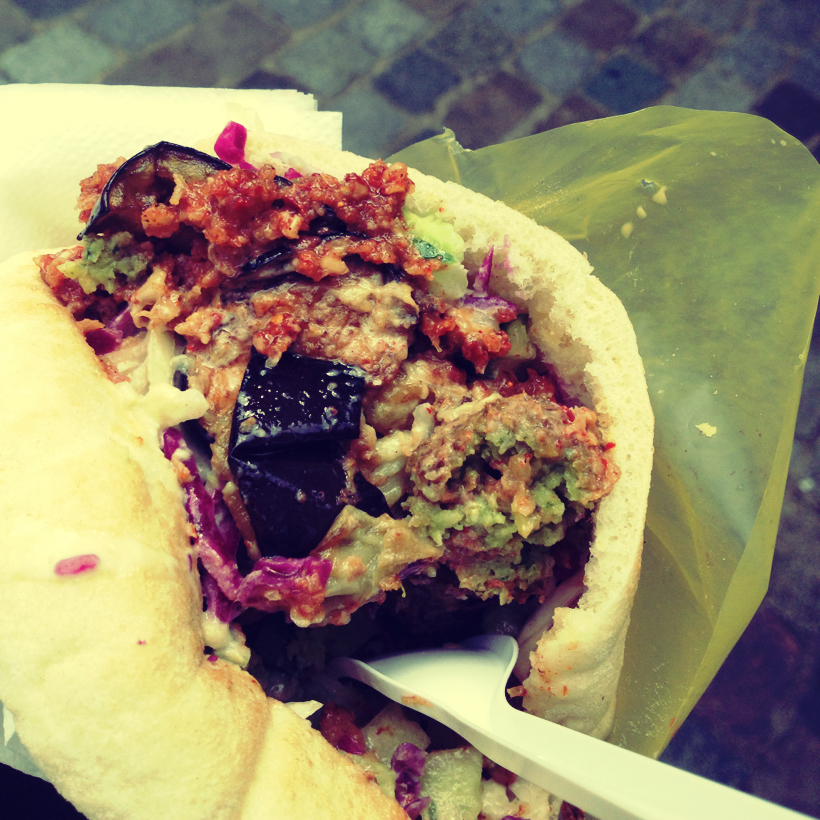 Pro: Best Falafel in the Marais and you can have a sit down meal or take away. Perfect for a break from vintage shopping in the area.
Cons: can't think of any
Average Price: 7 Euros
Metro: St. Paul (Line 1)
Address: 23 Rue des Rosiers, 75004 Paris, France
Telephone: 33 1 42 71 53 72 ?
Map It:
View in a larger map
How did you like the list of places to eat on the cheap side on your next visit to Paris? They've all been tried and tested by moi! Because let's be honest some of the best things in life are free (ooopps, I meant cheap).
---
UPDATED LIST STARTS HERE:
5. Coffee at Bob's Bake Shop in the 19th Arr.
You can buy a 2 euro cup of joe – with unlimited refills! yes my dear you read that right. And the bagels are simply delicious and authentic (not like the dry ones at Bagelstein).
6. Lunch at NEST Paris – lots of vegetarian options, all fresh and yummy vietnamien resto- daily salads and soups all under 10 euros in the Opera area of Paris.
7. Brunch or Lunch at one of the food stalls inside Marche des Enfants Rouges : Moroccan, Italian, French, Japanese options…most under 10 euros .
8. Lunch or Dinner at La Ferme – often times the menu of the day is under 10 euros – like the Curry Lamb pictured here. Everything is made with love and you can taste it!
5 Rue des Petites Ecuries, 75010 Paris
9. Breakfast at Cafe Lomi– Scones or Croissants and decent filtered coffee for under 5 euros.
10. Crepes at La Droguerie in the Marais – are the absolute BEST and stuffed!
11. Cheese at Taka & Vermo?
12. Pizza at Sette – most 7 euros
13. Turkish at Delice du Chateau D'eau – 67 Rue Faubourg saint Denis
14. Hotdogs at HUTCH – most are 4 euros, but they also have a daily soup for the same price.
15. Organic Wine at La Chambre Noire and any Tuesday night come out to Mardi Mardi ( food + wine) usually under 10 Euros in a great mix of local and expat ambiance.
16. Most of the Galleries in the Marais having their opening Vernissage on a Thursday night will have lots to drink and nibble on for Free. 🙂
17. Italian Sandwiches at Capri bazar – like the " Il Rocky " Mozarella di buffalla with jambon
18. Quiche at Terra Corsa
19. Ramen at Hokkaido -14 Rue Chabanais, 75002 Paris
20. Porridge Breakfast at Fragments Coffee Shop -76 Rue des Tournelles, 75003 Paris
21.Greek wrap at Filakia – Rue Mandar got some life back with this spot. Yummy sandwiches- everything fresh and home made + friendly staff! -?9 Rue Mandar, 75002 Paris
22.Daily Syrien is also a great place to get a good falafel and vegetarian meals for lunch under 10 euros on Rue Faubourg Saint Denis.
23. Muniyandi Villas is smaller than the one above but has the best non-vegetarian options (like the beef and chicken curry). Their Naan bread is seriously addictive. -207 Rue du Faubourg Saint-Denis, 75010 Paris
24. Happy Nouilles– is one of my favorite places to grab a fresh made noodle soup vegetable or meat for around 8 euros or less.
25. Cakes by @Cakeboyparis at Cafe Oberkampf –3 Rue Neuve Popincourt, 75011 Paris
26. Vegan Bento bowl at Le tricycle
27. Beer at Le Supercoin